Houston Musician Gives Third Ward After-School Program A Significant Donation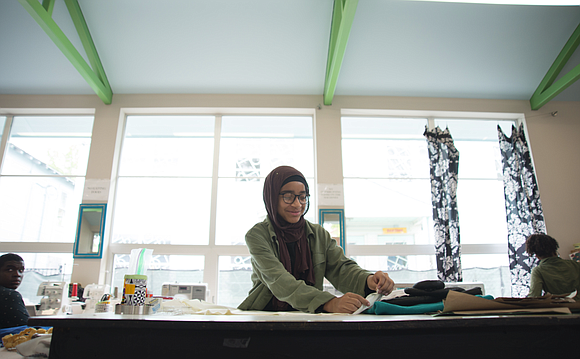 Jaime Herrero, Executive Director of Workshop Houston, announced this week that the non-profit organization has been awarded a $100,000 donation from rapper and native Houstonian Travis Scott. Workshop Houston was one of several non-profit organizations that participated in Scott's Astroworld festival last November through its on-going relationship with Live Nation. Scott learned about the free after-school creative arts and education program in Houston's Third Ward through the festival which resulted in his generous donation. Workshop Houston is the only festival participant to receive a donation from Scott.
Here are a select few of the programs this donation will support:
This month Workshop Houston students are working on re-creating Michelle Obama's Milly gown she wore for her official portrait in the Style Shop. On the former First Lady's birthday, January 17, Council Member Amanda Edwards will share with the students the importance of civic service.
After launching the first annual citywide drone racing competition last year, the Discovery Shop will host 20 drone teams from 10 schools for a day of racing at Space Center Houston on May 17.
There are four distinct "Shops" at Workshop Houston including the Style Shop, Discovery Shop, Beat Shop, and Dance Shop.
About Workshop Houston
Located in Houston's historic Third Ward, Workshop Houston was founded in 2003 as a community bike repair shop and has evolved into a hands-on, creative arts and education program for middle and high school students. This free program offers students the opportunity to build technical skills, develop a meaningful creative practice, and gain academic confidence through four creative resource studios, the "Shops."
In the organizations' four Shops – Beat Shop (music production), Dance Shop (dance/performing arts), Style Shop (fashion/graphic design) and Discovery Shop (tutoring/academic enrichment) students have access to tools, materials and instruction that are not readily available to them elsewhere. The environment offers students a safe and supportive atmosphere where they can develop an expertise in a particular area of interest and serve as part of a constructive peer group. The opportunities that are provided at Workshop Houston can and have profoundly changed the direction of a young person's life. Learn more about the program at www.workshophouston.org.