How Gilda Radner changed comedy and helped make 'SNL' a cultural treasure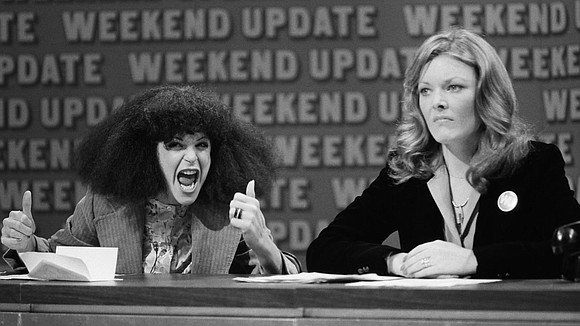 By Allen Kim, CNN
(CNN) -- Gilda Radner -- one of the most influential cast members in "Saturday Night Live" history -- played a pivotal role in shaping "SNL," forever changing the course of comedy.
Early on, "SNL" creator Lorne Michaels knew Radner had something. She was the first person he hired for what would become his groundbreaking sketch comedy team, which was dubbed "The Not Ready For Prime Time Players," in 1975.
Despite that original sketch team's legendary star power -- Dan Aykroyd, John Belushi, Chevy Chase, Jane Curtin, Garrett Morris and Laraine Newman -- Radner stood out.
Her quirky characters became household names: Roseanne Roseannadanna, the loud-mouthed consumer affairs reporter on "Weekend Update"; Baba Wawa, Radner's parody of Barbara Walters; Lisa Loopner, the lovable geek from "The Nerds" sketches; and Emily Litella, the hard-of-hearing elderly woman who appeared in op-ed segments for "Weekend Update."
In the CNN Film "Love Gilda," it's clear Radner inspired countless comics, both men and women.
"You see Amy Poehler, Cecily Strong and Maya Rudolph talking about her in the film," Alan Zweibel, Radner's close friend and "SNL" writing partner, tells CNN. "Even Bill Hader spoke about her with reverence, growing up and watching her. They looked upon Gilda as someone who was a gateway, who was a pioneer for women in sketch comedy in particular and comedy in general."
She helped break down barriers
"SNL" has changed a lot over the decades and much of that can be attributed to Radner helping break down barriers for women in comedy. During her time, she had to fight against stereotypes and the rampant sexism that was almost the norm in show business. Even Belushi, who was arguably the biggest star on "SNL" at the time, believed women were "fundamentally not funny" and he actively worked to undermine female staff writers, according to Curtin.
Just like Radner used to say, "It's always something" — if it ain't a star like Belushi, it's someone else.
"To be a woman on that show was extremely different than when I was there," Amy Poehler says in "Love, Gilda."
"There was so much in the world that had yet to be carved out for women in not just comedy."
Throughout its history, "SNL" has dealt with claims of sexism of being a boy's club. The ratio of male to female staff writers was stark for much of the show's early history, which had an impact on the types of sketches that made it to air. With more male writers penning material, there were more parts written for the men. Not helping matters was Belushi, who "felt as though it was his duty to sabotage pieces that were written by women," according to Curtin.
"John absolutely didn't like being in sketches with women," Curtin said in "Live from New York," a book about the history of the show. "He told me women were not funny. Actually, Chevy said it to me as well. And I found it stunning."