Los Angeles teachers are on strike, leaving 600,000 students in limbo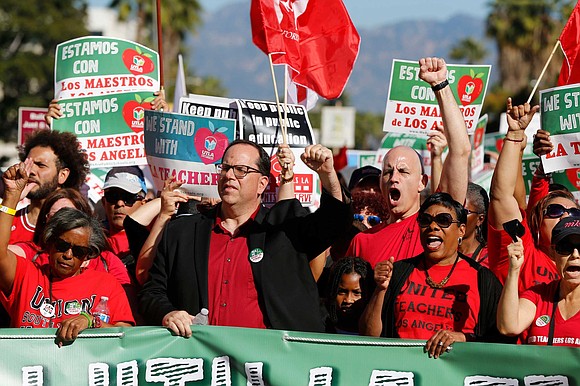 By Holly Yan, CNN
(CNN) -- Under a relentless drizzle of cold rain, 32,000 Los Angeles educators walked off the job Monday in the country's second-biggest school district.
That means about 600,000 kids have no idea when they'll see their teachers again.
Weeks of heated negotiations between the United Teachers Los Angeles union and the Los Angeles Unified School District went nowhere, leading to the city's first teachers' strike in 30 years.
But this strike isn't focused on teachers' salaries.
"It's absolutely not the pay raise. It's about class size reduction. In other words, hire more teachers," said Andrea Cohen, who's taught at John Marshall High School for 24 years.
"We want to have fully staffed schools. That means librarians, nurses, psychiatric social workers and their interns. We have 46, 45, 50 students in a class. It's unacceptable."
Both the union and the school district say they want smaller class sizes, bigger teacher salaries, and more counselors and nurses in the district's roughly 1,000 schools.
The big debate revolves around how much to fund them.
While the adults keep struggling to find a resolution, students are still expected to go to school during the strike.
Despite the mass exodus of 32,000 teachers and staff, classes will continue at all schools. LAUSD has hired about 400 substitute teachers and reassigned more than 2,000 administrators to help educate the 600,000 students.
As for how that works out logistically, "It's case by case, school by school," said Shannon Haber, chief communications officer for LAUSD.
The huge shortage of teachers is enough to make Andrew Krowne keep his four LAUSD children home for as long as the strike lasts.
"It's just a sheer overwhelming number of children versus adults," he said. "I'm not risking my children's safety."
Numbers and accusations fly
While both UTLA and LAUSD have made some concessions, both the union and the school district accuse the other of giving misleading facts and figures.
In LAUSD's latest offer to the union Friday, the school district said it "would add nearly 1,200 more educators -- teachers, counselors, nurses and librarians -- in schools, reducing class size in thousands of classrooms."
Class sizes in grades four to six would be limited to 35 students, and class sizes in all middle and high school math and English classes would be limited to 39 students, the school district said.
The offer would also "ensure no increase in any class size, increase nurses, counselors and librarians at all schools, along with a 6% salary increase and back pay for the 2017-2018 school year," LAUSD said.
But union President Alex Caputo-Pearl said the offer was good for only one year and that the school district's proposal was "woefully inadequate."
The union wants LAUSD to pull from its $1.86 billion in reserves to increase school staffing and boost teachers' salaries by 6.5%.
But the school district says it's not nearly as wealthy as the teachers' union suggests.