Bentley Continental GT is classic style in a modern package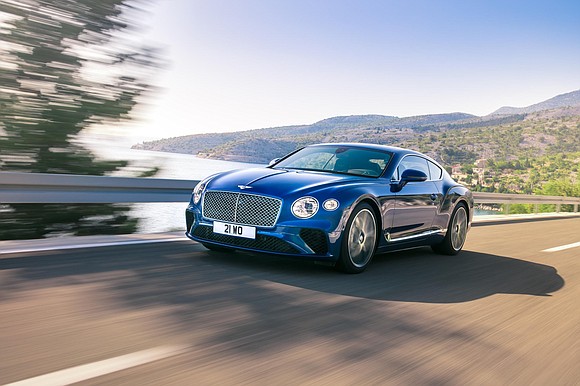 By Peter Valdes-Dapena, CNN Business
(CNN) -- The Bentley Continental GT has a big, powerful V12 engine, but it's no Ferrari. It's also got a classic design with round headlights and a big chrome grill, but it is no Rolls-Royce. But that's OK. A car like this is about the proper balance of power, handling and comfort. And, of course, good looks.
In a grand touring car, style is paramount. And the Continental GT, with its long hood, bulging haunches around the back wheels, and glittering chrome, has it. A car like this doesn't come cheaply, but on the Bentley price scale, it's affordable. Prices start at about $215,000, which is in line with competing models from brands like Ferrari and Aston Martin.
As in all Bentleys, the interior is a vault filled with fine leather, gorgeous wood and shining metal. The front seats are supremely comfortable. The back seats less so, but this two-door car isn't made for passengers, anyway.
This is the third generation of the Bentley Continental GT. When the first version came out in 2003, an all-new modern Bentley car brand was introduced to the world. This was not long after Bentley's split from Rolls-Royce. The two British luxury brands had been close siblings from the time Rolls-Royce bought Bentley during the Great Depression up until 1998, often producing virtually the same cars with different badges and hood ornaments. Then, BMW bought Rolls-Royce while Volkswagen bought Bentley.
The Continental GT was the perfect car to start Bentley's renaissance. It was beautiful with real presence, but it was also a car Rolls-Royce would never have made. This machine was clearly intended for the driver's pleasure, not for the poor soul boxed into the backseat.
From both a visual and philosophical standpoint, the Continental GT has changed little over the years. Its basic proportions — it looks fast but comfortably beefy at the same time — remain so distinctive it would take a keen observer to tell the first Continental GT from the last. The new car adds some extra creases that give the body more depth and texture. The grill is also wider and worn even more proudly.
Inside, Bentley designers were challenged with bringing modern technology into the cabin without garishly destroying the Jazz Age ambiance. That required a bit of trickery akin to hiding a flat screen TV behind a bookcase. In the center of the dashboard is a clever three-sided box. On one side, there's a wood panel with a chrome stripe that blends right in with the rest of the dashboard. On another side, there are three dials, none of which impart critical information but they look retro-sporty. On the third side is a computer screen showing maps, stereo controls, phone controls and such, just like you have on most cars these days. The box flips around to display whichever side you'd like to see. Most of us will probably just leave the computer screen up because, let's face it, it's 2018 not 1938, but give Bentley credit for giving us the option to get away from yet another screen if we want.