Dr. Myla Bennett Presents The Official Launch Event for Pretty Rx®
Former Miss USA and "The Real Housewives of Atlanta" co-star Kenya Moore hosts the exclusive Pretty Rx® Brand Launch Event in Atlanta, Georgia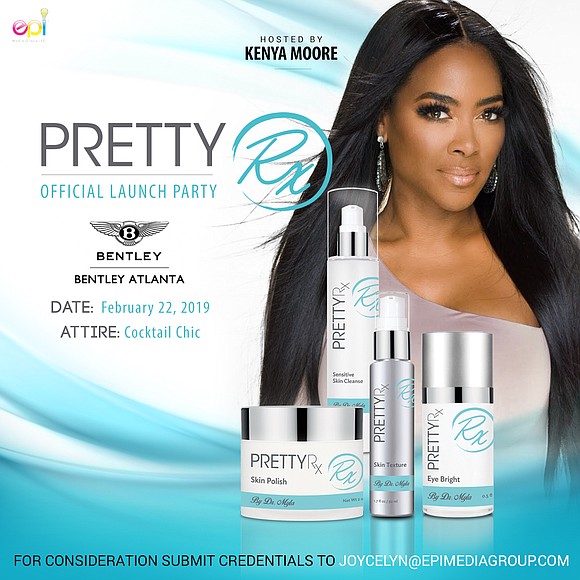 Atlanta, GA - January 28, 2019 - On Friday February 22, 2019, Celebrity plastic surgeon Dr. Myla Bennett will present the official launch of her new skin care line Pretty Rx "Your Prescription For Pretty Skin." Sponsored by Bentley of Atlanta, this event will be hosted by former Miss USA and The Real Housewives of Atlanta's, Kenya Moore. The Pretty Rx launch will host Atlanta's elite as well as those in the medical industry. Guests will receive a luxurious experience which will include complimentary light hors d'oeuvres provided by Collette Caters, Inc., desserts by Jaxon's, decor by Luxe Interiors & Events.
Pretty Rx by Dr.Myla is a cutting-edge medical grade skin care line. Its mission is to inspire woman to live confident lives and unleash their inner and outer beauty. The brand was developed by Dr. Myla for the sole purpose of helping women have clear, radiant skin while making them feel comfortable so that makeup would become optional. Dr. Myla has been the skin care specialist to some of the leading names in the entertainment industry including Supermodel Ashley Graham, Grammy Award winning Singers Toni and Tamar Braxton, and many more. Dr. Myla's goal has been to gain exposure to cutting edge products, treatments, and surgical procedures to prevent, slow down, and even reverse the signs of aging. Dr. Myla has been featured in both national and international publications and networks such as, NBC, The Tom Joyner Morning Show, Radio One, JET Magazine and many more. Dr. Myla has become one of the most sought after female plastic surgeons in the nation specializing not only in aesthetic surgery of the face and body but in non-surgical facial rejuvenation.
"This concept behind the making of Pretty Rx is to make women feel beautiful without hiding themselves behind makeup or photo filters," explained Dr. Myla Bennett. Pretty Rx was created cruelty-free and vegan. It is also free from harmful ingredients such as Phthalates, Sulfates, and Parabens. For more information about Pretty Rx visit www.PrettySkinKit.com.