This Valentine's Day, what's even better than a box of chocolate?
Mixologists say they know the best way to indulge in chocolate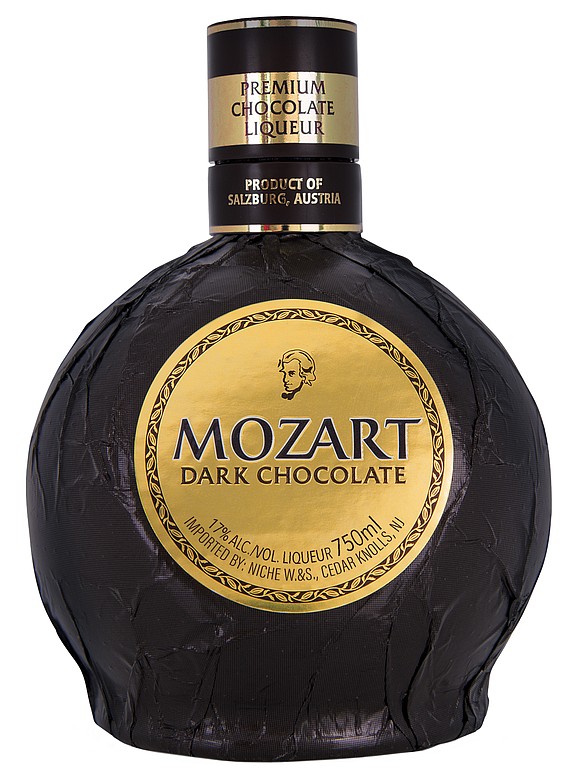 Traditional boxes of chocolate are so ordinary. There's a better, "outside-the-box" way to show your thoughtfulness. Crafted in Salzburg, Austria for more than 150 years, all-natural Mozart Chocolate Creams and Liqueurs are masterpieces made with only high-end ingredients such as rich Belgian chocolate, fresh cream and real Bourbon vanilla from Madagascar.

Chocolate and Valentine's Day have been tightly linked for more than 150 years, when so-called "eating chocolates" were first invented. Before then, chocolate was primarily enjoyed as a beverage. In fact, European chocolate houses were once as popular as coffee houses for social gatherings. Mozart harkens back to this time when chocolate – the elixir of love – was sipped on its own or blended with other aromatic flavors.
Mozart is available in several seductive flavors including the new Dark Chocolate Liqueur, as well as Milk Chocolate Cream Liqueur, White Chocolate Vanilla Cream Liqueur and White Chocolate Cream Strawberry Liqueur. Each is beautifully blended and packaged in their iconic round, hand-foiled bottle.

Even better, you can indulge without sacrifice. All Mozart Cream Liqueurs are lower in fat than most other cream liqueurs, and Mozart Dark Chocolate Liqueur is gluten-free and vegan.
"Nine out of ten people say they adore chocolate, and the tenth person is lying," jokes CEO and Global Brand Ambassador/mixologist Florian Iro. "Mozart's all-natural ingredients deliver superior flavor. Enjoy them neat, chilled or over ice, in coffee or cocktails, or even in dessert recipes."

CHOCOLATE MARTINI
3 oz Mozart Dark Chocolate Liqueur
1 oz Vodka
Add ingredients to shaker filled with ice / Shake hard & strain into chilled martini glass
CHOCOLATE MANHATTAN
1 oz Mozart Dark Chocolate Liqueur
1.5 oz Whiskey
.5 oz Red Vermouth
Angostura Bitters
Mix Mozart, Whiskey & Vermouth in shaker filled with ice / Shake hard & strain into chilled martini glass / Dot with bitters & garnish with cherry
MOZART STRAWBERRY TIRAMISU
Serves 6
3.5 oz. Mozart White Chocolate Cream Strawberry
4 cups. fresh strawberries
1 cup powdered sugar
1 cup plain yogurt
2 cups Mascarpone cheese
1 cup whipped cream
1 lemon
Ladyfingers
Blend half of the strawberries, freshly squeezed lemon juice, a bit of powdered sugar and Mozart White Chocolate Cream Strawberry in a blender. Cut the rest of the strawberries into pieces. Whip the cream until stiff.
Blend the Mascarpone, yogurt and the remaining powdered sugar until foamy. Fold in the whipped cream.
Put the ladyfingers in a form or glass, add the strawberry puree, then the cream and the strawberries. Repeat the process until everything is used up. Serve the strawberry tiramisu after chipping. Tip: Decorate the strawberry tiramisu before serving.
Find Mozart Chocolate Liqueurs at a price that's a sweet spot for your wallet at Total Wine & More and other major retailers. For cocktail recipes and a store locator, visit www.ourniche.com/mozart.