2019 East End Street Fest Offers an Impressive Display of Rumba, Salsa, and Latin Funk
Headliners includes GRAMMY-Award Winner Grupo Fantasma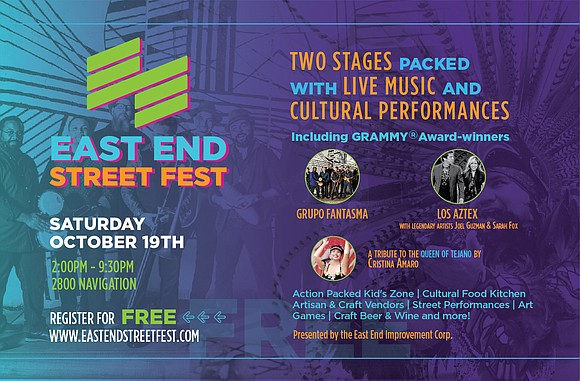 The East End Improvement Corporation (501c3) proudly announces the 2019 East End Street Fest, taking place on Saturday, October 19 from 2pm to 9:30pm at 2800 Navigation Boulevard. This FREE annual festival, which drew over 13,000 registered attendees last year, celebrates the vibrant community in historic East End Houston.
Throughout the day and in the three-block area of the Navigation Esplanade, festival goers will experience an array of artisan and craft vendors as well as a Cultural Food Kitchen representing the plethora of cuisines available in the East End. Two stages with a variety of live music genres and artistic performances will be the highlight. Main Stage headliners include two GRAMMY® Award-winners: Grupo Fantasma, a Latin funk orchestra from Austin, Texas and their explosion of musical colors and Los Aztex featuring Joel Guzman and Sara Fox and their gamut of rumba, Latin rock and soul, salsa and blues. Also, a memorable and exciting tribute to the "Queen of Tejano" by Cristina Amaro.
The Heritage Stage, sponsored by AARP, will showcase local artists performing dance, drum, and music acts that originate from around the globe. Artists include Itza Dance Co. performing Mexican folkloric dance, Caporales San Simon Bolivian Dance Troup, The Free Radicals marching drum band, D.R.U.M. Afro Caribbean, festival favorite Danza Azteca Taxcayolotl, Batala Brazilian Drums, and more. A colorful local student marching band and drill team will also be on hand to kick off the festival with a parade at 2pm.
This year's Kid's Zone, sponsored by Kroger and McDonald's, will include rock climbing, moonwalks, pony rides, games, face painting, music, and more. Up to 60 festival vendors will be selling art, handmade jewelry, crafts, books, attire, accessories, delicacies, and food. Additional festival features include beverage booths with refreshments for all ages including craft and domestic beer, wine, and nonalcoholic beverages; an interactive Safety Zone sponsored by Union Pacific where festival goers can get up close and personal with service vehicles such as a helicopter and SWAT truck; a Cool Zone, sponsored by Allegiance Bank where attendees can relax and cool off; plus interactive games for the whole family, art, activities, and street performances. In the evening hours, the festival transitions to an all-out live music block party as the headliners take the stage with Grammy® Award-winning music free to the public.
According to Veronica Chapa Gorczynski, President of the East End District, "the 2019 East End Street Fest will be eight years of celebration focused on bringing the community together and showcasing the arts, culture, and commerce of the East End. Whether you're enjoying delicious fare from our Cultural Food Kitchen, shopping for the perfect handmade bag, or dancing in the street to Grammy Winning music - it will be amazing and admission will be free!"
The full lineup and times of stage performances will be available on the event website, www.eastendstreetfest.com leading up to the festival. Although free, attendees are required to register to attend. Attendees are encouraged to register in advance via the festival website to expedite entry into the festival grounds.