Alpha Kappa Alpha Sorority, Incorporated Charters New Chapter to Serve Lake Houston Community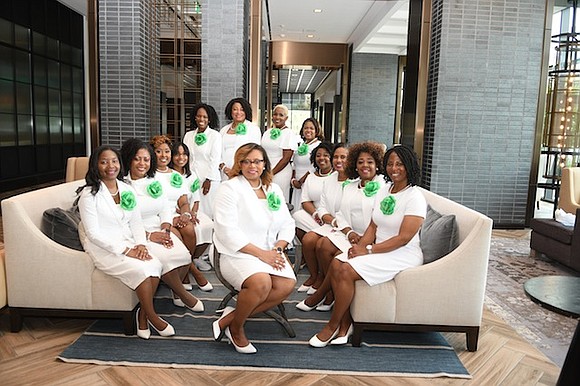 Alpha Kappa Alpha Sorority, Incorporated® made history today when it chartered its seventh four letter graduate chapter, Alpha Alpha Kappa Omega, in Houston, Texas.
Alpha Kappa Alpha Sorority, Incorporated® is an international organization founded on the campus of Howard University in 1908. For more than a century, Alpha Kappa Alpha Sorority, Incorporated® has provided innovative programming to underserved communities throughout the world. Currently, its programmatic focus centers on Exemplifying Excellence Through Sustainable Service, through providing support to Historically Black Colleges and Universities, women's health and wellness programs, building an economic legacy, promoting the arts, and implementing global impact initiatives. The chapter is comprised of 63 talented women of diverse professions, including attorneys, entrepreneurs, educators, engineers, business executives, and other accomplished professionals. The members of Alpha Alpha Kappa Omega are united in the mission of Alpha Kappa Alpha Sorority, Incorporated® to be of "Service to All Mankind." The chapter strives to exemplify excellence while providing exemplary service to the communities of Lake Houston, Sheldon, New Caney, Porter, Kingwood, Atascocita, and Huffman.
To commemorate the chartering, a luncheon was held at the Houston CityPlace Marriott at Springwoods Village on May 19, 2019. Over 500 dignitaries, family, and friends were in attendance at the chartering celebration.
Chapter members include the following: Alicia Aaron, Briggitte Adams, Crystal Allen, Seretha Augustine, Tamika Backstrom-Sieh, LaResa Banks, Simone Barnes, Sylvia Boyd, Sharalyn Carden, Robyn Carrier, Andrewetta Chandler, Stephanie Clay, Allegra Cloud-Jackson, Shalonica Cluse, Tomayia Colvin. Tamika Craft Demming, Crystal Donatto Brown, Tina Donatto, Natalie Donovan, Venecia Dutton, Franshell Eckford, Carmeshia Edwards, Nakia Francis, Tammy Galilee, Jerlene Gibbs, Adrienne Gibson, Meca Grant, Jasmine Green, Dornita Hardeman, Criscilla Hensley, Tracy Holloway, Crystal Holmes, Krystal Hopton, Dionna James, Ronda James, Andrea Jean, Anscherida Jones, Monique Joseph, Tangela Joseph, LaKeisha LeBlanc, Melanie Little, Ester Lunnon, LaQuita Malone, Tuesday Martin, Jean Mayes, Shon McCraw, Neatra McMiller, Diaka Melendez, Tonia Morrison, Cheryl Moses, Janice Nickie-Green, Cecily Parker, Courtney Powers, Altonnia Pruitt, Shunte' Scott, Le'Krystal Simon, Trina Stevenson, Shontai Thomas, Ancernetta Williams, Littura Williams, Scheretta Wilson, Danielle Woods-Jackson, and Atina Young.
The members of Alpha Alpha Kappa Omega have participated in many notable community service projects throughout the Lake Houston area. The group, which was formerly known as the Pearls of Lake Houston Interest Group, participated in many impactful initiatives, including volunteering for Hurricane Harvey relief, collecting backpacks and school supplies to donate to the Humble and Sheldon Independent School Districts, providing support to individuals impacted by Alzheimer's Disease, creating pillowcase dresses for girls in Haiti, collecting donations of eyeglasses for the Lions Club International, and donating to various charitable causes and Historically Black Colleges and Universities.
The members of Alpha Alpha Kappa Omega are committed to continuing their outstanding service to the Lake Houston community.