JaeRene Shoots for the Stars with Budding Music Career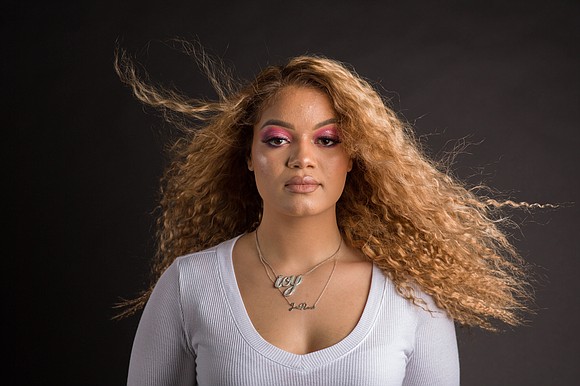 By Jennifer Ayala, Special to Style
Go ahead, ask any of the younger kids in this generation what they want to be when they grow up, and you're likely going to get a high response of those stating they strive to be a "star." However, what most of them do not realize, is the hard work, mental strength, and dedication it takes to be just that - a star! One particular musician on the rise, JaeRene, sat down with me and shared some insight on her journey to stardom, along with what it takes to pursue a career in the music industry. But I have to tell you now, if it were easy, we would all be stars.
JaeRene was born and raised in the great state of Texas and is especially proud of her roots planted here in Houston. First born daughter to a single mother, making her way through high school, the future songtress would likely realize the hardships of an unfair world early on. However, the upside would pave the way for her "never give up" attitude. Growing up in a single parent household, young JaeRene witnessed the strength and courage of a powerful mother at a very young age, and rarely did she observe anyone do it with such grace. Though her mother, Lindsay, was able to persevere and give JaeRene the best life she could, she undoubtedly could not have done so without the help of many others. What is that saying many people use? "It takes an entire village to raise a child…" well this was certainly one of those sayings that the duo can wholeheartedly relate to.
When it comes to her biggest support, there is no question that she loves her daughter. Her mother happily works behind the scenes and makes sacrifices. Although many people doubted and attempted to discourage her, JaeRene proved she was a force to be reckoned with. Although JaeRene has had to miss out on many of the dances, parties and after school activities her high school peers participate in, she wouldn't trade it in for all the late-night recordings or long days at photo shoots.
She has a message to all the mothers and fathers out there. "Don't quit and don't give up, because not only are you are the most important person to your child, but the only one on earth that is ever going to have 100 percent of their best interest at heart," commented JaeRene.
Watching this little seed bloom into the beautiful flower that she is today has been as rewarding to me, as if she were my own, and with the passion that Jae possesses there is no stopping her. JaeRene is now becoming a name that many of our artists and fellow Houstonians are getting familiar with and with a vast Instagram following she is only growing. Many have had the privilege to witness the full potential of the mother-daughter duo that proved that a little bit of dedication and hard work was something they would never shy away from.