Bernie Sanders confronts Walmart leaders at annual shareholders meeting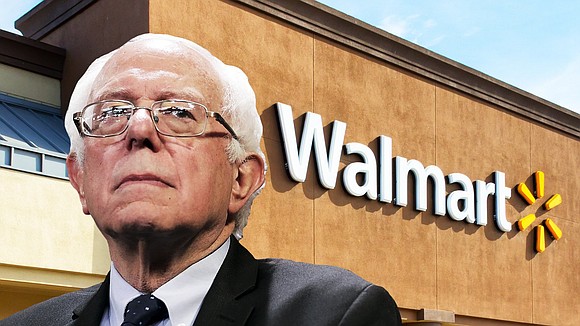 By Gregory Krieg, CNN
(CNN) -- Democratic presidential candidate Sen. Bernie Sanders came face-to-face with Walmart's corporate leadership during the retail giant's annual shareholders meeting on Wednesday in Arkansas, where he introduced an employee proposal to put workers on the company's board and asked for a raise to its minimum wage.
Speaking as a proxy for a Walmart employee, Sanders offered the resolution -- which would be defeated in an afternoon vote -- from the floor of a small, carpeted ballroom with Rachel Brand, a top company executive and former Justice Department official, presiding onstage. After giving the formal pitch, Sanders delivered a more cutting message to Walmart officials.
"Despite the incredible wealth of its owner, Walmart pays many of its employees starvation wages, wages that are so low that many of these employees are forced to rely on government programs like food stamps, Medicaid and public housing in order to survive," Sanders said. "Further, Walmart should give a voice to its workers by allowing them seats on the board of directors. The concerns of workers, not just stockholders should be a part of board decisions."
By visiting Arkansas, Sanders was able to directly confront Walmart's leadership and, through his aggressive use of social media, highlight his stand to Democrats angered by growing corporate profits at a time of increasing economic inequality. Sanders' 2020 campaign has sought to remind voters of his long track record as an activist, dating to the Civil Rights Era. The candidate himself has spoken occasionally on the stump about his roots in the progressive movement and support for union workers on picket lines.
With about ten seconds of his allotted three minutes to spare, Sanders again beseeched the board to pass the resolution, thanked the room, then stepped outside to applause from protesters who had been camped out in the parking lot of the John Q. Hammons Center for hours before the meeting began.
Asked after the meeting if he thought Walmart CEO Doug McMillon had received his message, Sanders was pessimistic.
"No, I don't," the Vermont senator told CNN's Ryan Nobles. "I feel like if he got the message, what he would say is we are going to do what many of our competitors are doing -- what Amazon has already done, Costco, what Target is moving toward, and raise that minimum wage to 15 bucks an hour."
McMillon in his remarks earlier in the morning called on Congress to raise the federal minimum wage.
"Well, that's fine," Sanders said afterward. "(Congressional Democrats) are working on it. I led the effort in the Senate to raise the federal minimum wage to 15 bucks an hour," before noting Republican opposition. "What we need," Sanders added, "is Walmart, the largest private employer in this country, to take a bold step forward and say all of their employees should live with dignity."
Sanders has targeted a series of major corporations over the wages they pay hourly employees. Amazon raised its starting wage to $15 an hour in 2018 after coming under pressure from Sanders, who has also pressed Disney, which agreed to a deal with unions last year to raise pay for workers at California's Disneyland to $15 hourly this year and to ramp up to that figure by 2021 at Walt Disney World in Florida. Walmart's minimum wage is currently $11 an hour.