Nancy Pelosi Is Winning the Impeachment Fight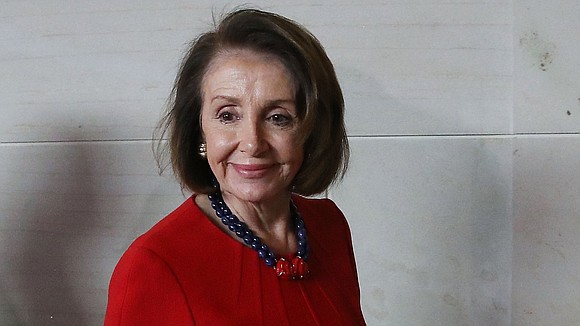 Ever since special counsel Robert Mueller's unexpected public statement about his findings regarding Russia's interference in the 2016 election and potentially obstructive behavior by Donald Trump, calls to impeach the President have picked up considerable steam.
As of Monday night, 59 House Democrats have either called for Trump to be impeached or for an impeachment inquiry to be launched, according to CNN's count. And on Sunday, House Majority Whip Jim Clyburn of South Carolina, the third-ranking Democrat in the House, seemed to suggest to CNN's Jake Tapper that impeachment for Trump was inevitable.
"That's exactly what I feel, I think we've already begun it," Clyburn told Tapper, adding that Trump would be impeached "at some point."
The impeachment boulder seemed to be rolling down the hill. Then Pelosi held a private meeting of her leadership team on Monday night. And Clyburn immediately changed his tune.
"I'm probably farther away from impeachment than anybody in our caucus," Clyburn said Monday night. "We will not get out in front of our committees. We'll see what the committees come up with. I've said that forever."
Riiiiiiiight.
Look, a politician getting too far out over his skis and then adjusting after realizing it is as old as politics itself. But what is noteworthy here is how quickly Clyburn changed his tune -- and how he did so immediately after sitting down with Pelosi and the rest of the party leadership.
What that flip-flop makes clear is that Pelosi is still firmly in charge of her caucus and its approach to the allegations of obstruction against Trump -- and the broader investigations into the President's administration.
Yes, you now have 59 Democrats calling for Trump's impeachment (or at least the start of an impeachment inquiry). But that group makes up only one-quarter of the 235 total Democrats in the party's majority. That doesn't mean the number isn't significant, but it does means that it's still a (relatively) small chunk of the Democratic caucus.
And it's important to look at WHO those 59 people are (and who they aren't). The 59 are, by and large, the most liberal members of Congress -- most of whom represent districts where impeachment is already very popular. Pelosi knows she is never going to stop, say, New York's Alexandria Ocasio-Cortez or California's Maxine Waters from pushing for impeachment. So she doesn't spend time trying.
Take a look, though, at the people Pelosi HAS clearly leaned on to keep them away from calling for impeachment.
At the top of that list is House Judiciary Committee Chairman Jerry Nadler of New York, whose committee would run any sort of impeachment inquiry. In the wake of Mueller's public statements, Nadler said this of the way forward: "With respect to impeachment, all options are on the table, and nothing should be ruled out." Which is, of course, very different than saying "we need to begin the impeachment inquiry now."