Celebrating the power of connection at Sims Bayou Greenway Grand Opening and Ribbon Cutting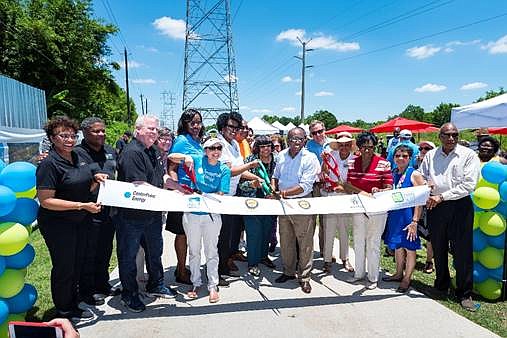 On Saturday, Houston Parks Board, Houston Parks and Recreation Department, and CenterPoint Energy celebrated the newest segment of Sims Bayou Greenway and recreational trail along CenterPoint Energy easement in Houston.
The grand opening event included a variety of family fun activities including life-size yard games from Nature & Eclectic Outdoors, e-bikes provided by Bike Barn, a scavenger hunt, free face painting, food trucks, sidewalk activities, free snow cones and popcorn, and much more. A ribbon cutting ceremony at noon concluded the event, with elected officials and project partners in attendance.
The new trail along CenterPoint Energy easement runs roughly parallel to Hiram Clarke Road in southwest Houston, north of Sims Bayou Greenway to West Airport. An agreement between CenterPoint Energy and the City of Houston, approved in 2014 by Houston City Council, allows recreational trails on CenterPoint Energy rights-of-way and paved the way for the trail project as one of the first Beyond the Bayous connections, an initiative of the Houston Parks Board to advance the development of park and greenway systems throughout Houston. Houston Parks Board managed the design and construction of the trail.
As part of Bayou Greenways 2020, a 2.58 mile segment along Sims Bayou Greenway from Heatherbrook Drive to Buffalo Speedway is also complete, connecting into the recently completed trail that runs west toward Blue Ridge County Park. This newly paved 10-foot-wide trail replaced an existing asphalt trail and includes adjacent directional and educational signage, trash and recycling bins, benches, ornamental design features, landscaping and more. There is a new trailhead entrance at S. Post Oak Blvd as well as other neighborhood trail connections. The trail cost $5.1 million and the construction contractor was Times Construction.
A nonprofit 501(c)(3) dedicated to providing access to quality parks and greenspace in the Greater Houston region, Houston Parks Board creates, improves, protects and advocates for parks for everyone. Since 1976, the organization has utilized public-private partnerships and its extensive philanthropic, government and community relationships to improve parks large and small. Houston Parks Board is currently leading the transformational $220 million Bayou Greenways 2020 project to complete a 150-mile network of connected parks and trails along Houston's major waterways. For more information, visit www.houstonparksboard.org.
Bayou Greenways 2020 is one of the most ambitious parks projects in the U.S. By transforming more than 3,000 acres of underutilized land along Houston's major waterways into linear parks, Bayou Greenways 2020 will complete a 150-mile network of connected parks and trails. The $220 million project will connect people, places, and greenspace while enhancing air and water quality, preserving flood-prone areas and stimulating economic development in Houston. Public investment was matched by significant private contributions including an extraordinary lead gift of $50 million in 2013 from the Kinder Foundation.
Beyond the Bayous is the shared vision of Houston Parks Board and its cross-sector partners for expanding Greater Houston's public realm to improve greenspace equity and connectivity between parks, homes and jobs; increase public access to parks; and enhance the environmental health of communities. By fostering collaboration, reinvesting in existing parks, and identifying opportunities which allow the expansion of the regional park network, parks and greenways will weave throughout Houston's urban fabric, creating a tapestry of vibrant, connected communities. The initiative is the result of a 2017 study generously funded by Houston Endowment.