Alpha Kappa Alpha Sorority, Incorporated® – Xi Alpha Omega Chapter Celebrates 47 New Members

By Be'Atrice Randall
The Xi Alpha Omega Chapter of Alpha Kappa Alpha Sorority, Incorporated® (AKA) hosted a New Member Celebration on Sunday, June 2, 2019, at the Hilton Americas-Houston, where forty-seven (47) professional women were introduced to nearly 800 Houston community members, family, and friends. Very special guests in attendance included Dr. Mattelia B. Grays, AKA 18th International President, Ms. Faye B. Bryant, AKA 21st International President, Dr. Polly Sparks-Turner, 20th AKA South Central Regional Director, and Mrs. Gwendolyn Brinkley, 23rd AKA South Central Regional Director. Several AKA Houston Metropolitan Area Chapter Presidents and Leadership also attended the celebration, along with several elected officials, including the Honorable Angela Graves-Harrington, Judge, Harris County 246th Family District Court and the Honorable Toria J. Finch, Judge, Harris County Criminal Court-at-Law No. 9, who are both members of Xi Alpha Omega. Former Xi Alpha Omega Chapter President, Ms. Pamela McGee, served as Chairman of the New Member Celebration Luncheon Committee.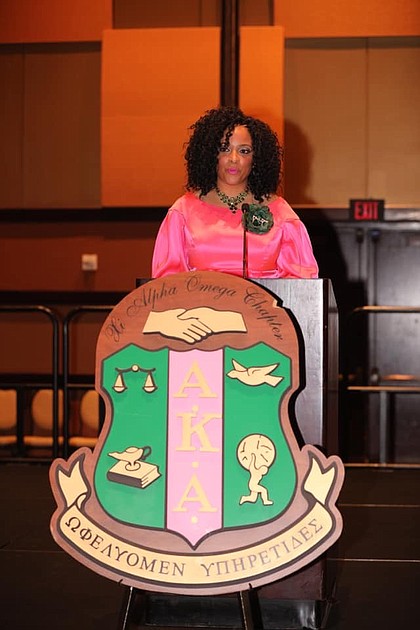 The Featured Speaker for the Celebration was Dr. Shawn E. Simmons, AKA International Impact Day Coordinator, Ivy League Educational & Charities Foundation Chairman and Former Xi Alpha Omega Chapter President. Dr. Simmons' keynote address focused on leadership, service, and sisterhood topics under the "Escape Room" theme. She encouraged the new members to "recognize the strengths of our team and know when to lead from the front or support from the back". Dr. Simmons continued, "We all have the key in us. When you use the key to unlock your potential, you help create an environment where everyone is performing at an extraordinary level. And when that happens, we make the chapter better, our community benefits, this region will rise, and our Sorority exemplifies Excellence!"
The 47 newly initiated members are Tarnisha Adams, Allure Anoma, Kimberly Ardison, Liza Bailey, Taffney Battle, Darrell Belton, Michelle Bradford, Erica Brooks, Courtney Busby, Erica Cain, Najah Callander, Kamyra Capehart, Brandee Davis, Kennedi Dixon, Tasia Dobard, Carmen Evans, Bria Finley, Tracy Funchess, Sharon Garner, Kasonya Hardeman, Alexandria Harrison, Danielle Hebert, Ashley Hill, Charmaine Hines, Krystal Holmes, Carrigan Donatto-Johnson, Robyn Jones, Edwina Loche Barrett, Celena Loeb, LaReina Luckey, Shaunon McClellan, Diondra Miller, Erica Milson, Cambrian Pichon, Opal Pierce, Courtney Pruitt, Leah Randle, Sonja Rhodes, Kamaria Rodgers, Angela Ross, Elise-Marie Salim, Shlonda Terry, Shameka Washington, Tyler Washington, Desiree Watkins, Yolanda Wilkerson, and Monique Williams. This group of women, with various professional backgrounds, including Engineers, Doctors, Attorneys, Educators, Administrators, Nurses, Businesswomen, Entrepreneurs, Government Employees, and Professional and Doctoral Degree Students, planned and executed community service projects to make an immediate impact on the Houston Community. Under the Global Impact Target of AKA International President, Dr. Glenda Baskin Glover's Exemplifying Excellence Through Sustainable Service Administration, the new members packaged over 500 backpacks filled with snacks, toiletries, books, and school supplies, in collaboration with Connect Community Hub, a partnership of agencies that service refugee and immigrant families. The new members also donated 200 of those backpacks to Las Americas Newcomer School, an HISD school that exclusively serves refugee students. Their community service efforts continued under the theme, "Purses for a Purpose," whereby these new members filled 60 purses with toiletries, donated by Walgreens, to support the Gulfton Neighborhood community representatives that are responsible for assisting recent immigrant and refugee families arriving in the area.

Under the leadership of Xi Alpha Omega Chapter President, Ms. Tracey R. Lewis and 2nd Vice President and Membership Chairman, Mrs. Pauline T. Allen, these 47 new members are poised to be Supreme in Service to all mankind.