Democrats divided on new Medicare for all bill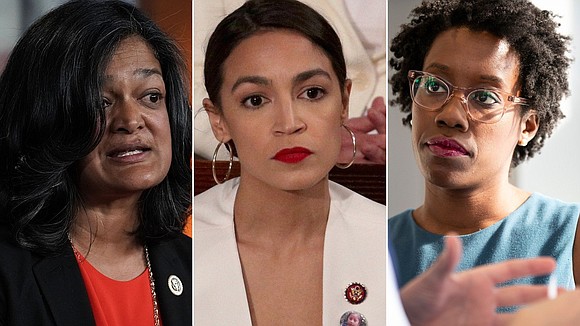 By Alex Rogers and Tami Luhby, CNN
(CNN) -- Democratic Rep. Lauren Underwood was a kid in a swimming class when her heart began to race. She was diagnosed with supraventricular tachycardia, which has since shaped her life in every way, from her preference for caffeine-free diet Coke to her career starting out as a registered nurse.
In 2017, when she saw her Illinois congressman, Republican Randy Hultgren, promise to protect those like her with preexisting conditions, but then later vote for a bill that would have increased their costs to get covered, a heart that sometimes beats too fast also gave her a reason to run for Congress.
Democrats took the House in 2018 by campaigning against the Republican efforts to repeal and replace the Affordable Care Act, tying personal stories to a larger narrative of protecting the coverage of millions of Americans. The strategy worked for Underwood, who won her exurban Chicago district in an upset.
"A lot of these provisions impact me personally," she told CNN last year. "I still don't know how to tread water."
Yet while health care propelled the Democrats to success, the issue has already begun to divide the party as its members propose what to do next.
On Wednesday, Rep. Pramila Jayapal, a Washington Democrat and the leader of the Progressive Caucus, and Democratic Rep. Debbie Dingell of Michigan will unveil the most significant single payer proposal in the House yet. It has the support of more than 100 members — many more than support less radical House bills that would permit states to create a Medicaid buy-in option or allow Americans at age 50 to buy into Medicare. It's based off a bill by Sen. Bernie Sanders, who got other senators running for president — Elizabeth Warren, Kamala Harris, Kirsten Gillibrand and Cory Booker — on board too.
Nevertheless it has split the 235-member House Democratic caucus, and the vast majority of the new freshman class — roughly 75% — has not signed onto the Medicare for All bill.
Some of those who haven't co-sponsored the bill are freshmen Democrats from competitive districts like Underwood, Rep. Donna Shalala, the former Health and Human Services Secretary, and Rep. Colin Allred of Texas, who said in interviews that they are focused on fixing the Affordable Care Act and lowering the price of pharmaceuticals rather than a total overhaul of the health care system.
Underwood told CNN that her priority in Congress is to "stabilize the Affordable Care Act and make sure it's affordable for folks seeking coverage," pointing out that there are 37,000 people in her district who use its marketplace.
"I think it's very clear that the American people are looking for lower premium prices, lower prescription drug prices, and higher quality coverage," Underwood said. "There are many routes to achieving those goals."
When it comes to debating one of those routes — such as a government-run plan — she raises a host of questions.
"How much is it going to cost?" she asked. "How are we going to pay for it? Who specifically it covers? What happens with private insurance? What happens to all types of coverage?"