House Democrats announce broad probe into allegations of obstruction of justice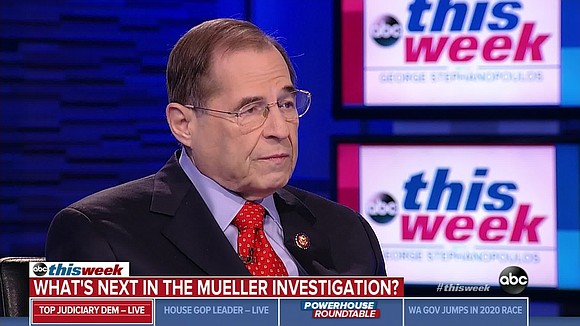 By Manu Raju and Jeremy Herb, CNN
(CNN) -- House Judiciary Chairman Jerry Nadler on Monday announced a sweeping investigation into President Donald Trump's campaign, businesses, transition and administration, a probe that would lay the groundwork for Democrats if they choose to pursue impeachment proceedings against the President.
The Judiciary Committee on Monday sent letters to 81 people and entities -- including the White House, the Justice Department, senior campaign officials, Trump Organization officials and the President's sons — marking the start of a broad investigation that will tackle questions including possible corruption, obstruction of justice, hush-money payments to women, collusion with Russia and allegations of the President abusing his office and using it for personal gain.
They are demanding responses within two weeks.
The committee's investigation comes amid the anticipated conclusion of special counsel Robert Mueller's investigation into possible collusion and obstruction of justice, signaling the committee is likely to retread ground that federal prosecutors have already pursued. Many of the same witnesses that the Judiciary Committee is now requesting information from have already spoken to Mueller's prosecutors and the grand jury.
The sprawling net cast by the committee also signals that the Democratic-led investigations are likely to stretch on for months, with multiple committees seeking information from senior officials in the White House, the Trump campaign and the Trump Organization.
The evidence gathered in the investigation would be the basis of a possible impeachment proceeding, which the Judiciary Committee would lead, though Nadler has said it's too soon to be discussing impeachment.
"We do not now have the evidence all sorted out and everything to do an impeachment," Nadler said in an interview on ABC's "This Week" on Sunday. "Before you impeach somebody, you have to persuade the American public that it ought to happen."
But Nadler also said that it was "very clear" the President had obstructed justice.
"It's very clear — 1,100 times he referred to the Mueller investigation as a witch hunt, he tried to -- he fired -- he tried to protect (former national security adviser Michael) Flynn from being investigated by the FBI," Nadler said. "He fired (former FBI Director James) Comey in order to stop the Russian thing, as he told NBC News. ... He's intimidated witnesses, in public."
Republicans responded to the new investigation by accusing Democrats of launching a fishing expedition.
"We don't even know what the Mueller report says, but Democrats are already hedging their bets" Georgia Rep. Doug Collins, the top Republican on the Judiciary Committee, said in a statement. "After recklessly prejudging the president for obstruction, Chairman Nadler is pursuing evidence to back up his conclusion because, as he admits, 'we don't have the facts yet.'"
Letters first step in broad probe
A Judiciary Committee counsel said that the letters are intended to begin collecting a large trove of evidence that the committee would comb through and then decide who they should bring in to testify.