Stephon Clark's family announces 'legacy weekend' one year after his death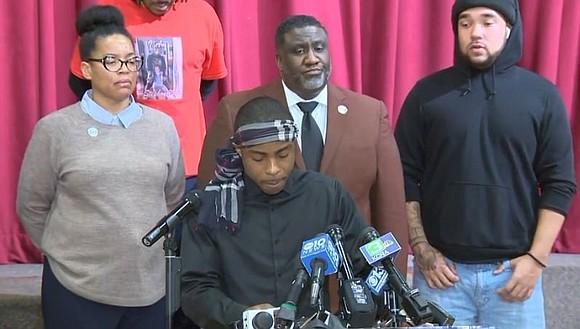 By Web Staff
Sacramento, CA (KCRA) -- Stephon Clark's family announced they plan to hold a legacy weekend celebration of Clark's life beginning March 15 and ending March 18, the anniversary of his death.
Clark's brother, Stevante Clark, made the announcement at a news conference Sunday, the day after it was announced that no criminal charges will be filed against the two officers who shot and killed Stephon Clark.
The events include a teen summit, a mothers' brunch and a day of remembrance.
"This will be a way to not only honor and remember the life of Stephon, but uplift and bring communities together in a time of healing," said Stevante Clark. "We all need healing. Not just the Clark family was affected by this, but the whole Meadowview community, Sacramento community and national community were affected by this."
At the news conference, Clark said he still hopes that the officers who shot and killed his brother will be held accountable.
Clark said he was not surprised that Schubert decided not to file charges, but he was surprised at the way she announced her decision, namely to reveal the list of drugs in Stephon's system the night he was killed, text messages documenting an argument between Stephon and his fiancee and Stephon's web searches into how to commit suicide.
"It was like he was killed again," said Clark. "It doesn't matter is all I'm saying. We should be looking at these officers. Were there drugs in their system? Let's look at their phone records. Let's see what they search on the internet."
On Sunday evening, former Sacramento County Sheriff John McGinnis weighed in and said that is a reasonable question that has a legal response.
"They enjoy the benefit of the 4th Amendment to the Constitution. That's private information," McGinnis said about the police officers. "There's no evidence that they committed a crime. There's no probable cause sufficient to issue a warrant to obtain that information from them."
Family attorney Ben Crump says California Attorney General Xavier Becerra is expected to release the findings of his own investigation into the shooting March 18.
Clark said that his family was devastated, first by his 22-year-old brother's killing and again Saturday, when Sacramento County District Attorney Anne Marie Schubert announced the officers would not be charged.
"The district attorney shouldn't be trusted," Clark said, adding "justice was denied."