Mayor Turner Announces Houston to Host African American Mayors Association Conference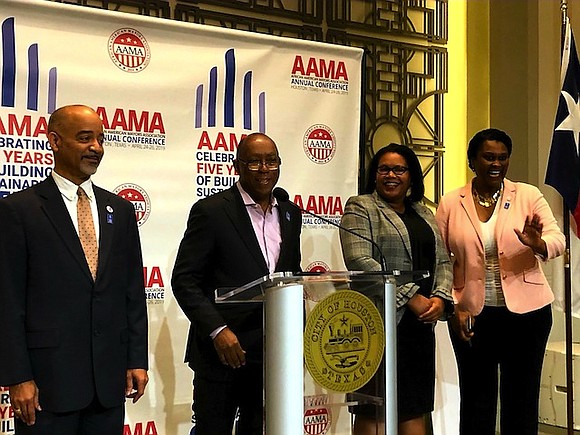 Houston Mayor Sylvester Turner made an exciting announcement today that the African American Mayors Association will hold its national conference in Houston.
The AAMA's 5th Annual Conference will take place at the George R. Brown Convention Center April 24 through 26 with the theme of celebrating five years of building sustainable communities and cities.
Mayor Turner pointed out that this is the first time AAMA has held its conference outside Washington, D.C.

"I am extraordinarily proud that AAMA chose Houston unanimously," said Turner. "I have heard from mayors across the country who say they intend to come.'
Turner is the chair of the Conference Host Committee with the other local African American mayors serving as co-chairs: David Allen of Prairie View, Yolanda Ford of Missouri City, Derrick Freeman of Port Arthur, Leonard Reed of Willis and Michael Wolfe of Hempstead. Allen and Ford joined Turner at the announcement news conference at Houston City Hall.
"AAMA empowers local leaders for the benefit of their citizens," explained Turner. "It is at the national forefront of advocating for policies that impact the vitality and sustainability of cities, providing mayors with leadership and management tools and creating a forum for member mayors to share best practices related to municipal government."
Turner said the conference will address national issues such as regional mobility, resiliency after natural disasters, developing a vibrant workforce and building more technological and economic development opportunities.
"This is an opportunity to showcase the Houston region and show how we work collaboratively together," Turner said. "Whether you live in Houston, Prairie View or Missouri City, we are all in this together to let everyone know the Houston region is open for business."
For more information on AAMA, visit www.ourmayors.org.