8th Annual Houston Kosher Chili Cookoff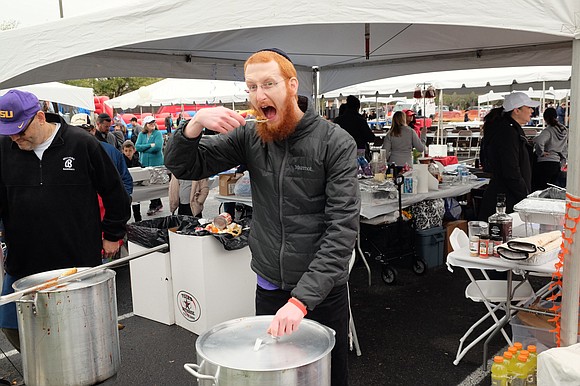 The 8th Annual Kosher Chili Cookoff gathered the Houston Jewish community as well as our neighbors at Congregation Beth Yeshurun, regardless of affiliation. 30 local organizations and businesses fired up the competition with their unique kosher chili recipes each vying for bragging rights to the best kosher chili in Houston. Over 2000 attendees were able to eat as much chili as they could consume.
Attendees enjoyed a chilly day with live music, a moonwalk, an obstacle course, balloon artists and face painting all while sampling some of Houston's best kosher chili.
City of Houston Mayor Sylvester Turner welcomed guests and visited booths and tasted many of the chili entries. Attendees also spiced up the event with an exciting raffle during the sets of several local live entertainment acts. The event began with Mikol Makom Band, followed by the Lanier Middle School Kletzmer band directed by Leonardo Hernandez. The cookoff ended with celebrity and media food judges announcing winners from the 30 sampled kosher chili recipe entries received throughout the cookoff.
The coveted best chili and first place award was presented to the Bellaire Jewish Center team. Followed up by Aishel House "Holy Chili Peppers" team winning 2nd and 3rd place awards for their two separate chili recipe entries.
The TeDan Surgical Innovations team won the Showmanship Award with their Bloody Mary IV bags, and the Congregation Beth Yeshurun team received the People's Choice Award. All winning teams were presented with trophies.
Celebrity and media judges included Kathleen Ballanfant of the Village and Southwest Newspaper; Carlos Brandon from Houston Food Finder; Houston City Council Member Ellen Cohen District C; Tom Flynn with H Texas Magazine; Michael Garfield of iHeartMedia and KPRC-AM 950; Dai Huynh of The Buzz Magazines; David Leftwich of Sugar and Rice Magazine; Ruchi Mukerjee and Sandeep Khandelwal of Lights, Camera, Action; Jacob Reiner of Fox Channel 26; and Matt Riklin from The Jewish Herald Voice.
This event was made possible with the support of our sponsors:
Mostyn Law Firm - In Memory of our Great Friend, Steve Mostyn
Jim S. Adler, PC
Kenny & Ziggy's
Monty & Ramirez LLP/Center for Latino-Jewish Relations (CLJR)
National Prosperity Insurance
Tony Buzbee for Mayor
Alan Rosen Harris County Constable Precinct 1
Proguard Self Storage
TEI Traffic Engineers, Inc.
Interra Capital Group/Dunhill
Nationwide Insurance/Slater Insurance Agency
Upstream Energy Services LLC
Copy.com
HKA (Houston Kashrus Association)
JGR Computer Services/Tech Southwest
Mikol Makom
MKT (Mehadrin Kosher of Texas)
Saint Arnold's Brewery
Acme Party & Tent
Brian Gavin Diamonds
Chris Brown for Controller
Elma & Alex Flores
Gross & Foster Financial Services
Judge Mike Engelhart
Judge Robert Schaffer
Judge Steve Kirkland
Meyerland Area Democrats Club
Morris, Lendais, Hollrah & Snowden
Rockwell Management
Sanford L. Dow
Terrain Solutions Inc.
Belden's
Event Yard Greetings
Katz Coffee
Laykie's Gourmet Café at the J
PV Rental
BellaireConnect
CKW Luxe
Cleverley Stone Show
Hot in Houston Now
Houston Food Finder
Houston Patch
JHV (Jewish Herald Voice)
KEY Magazine
Swoon Katy
Swoon Memorial
Texas Lifestyle Magazine
Village News & Southwest News
Yelp
For more information please visit www.houstonkosherchilicookoff.com