Howard Schultz to unveil how he'd run country should he become president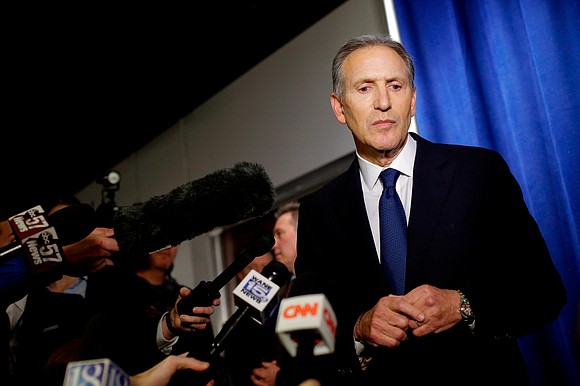 By Vanessa Yurkevich and Devan Cole, CNN
(CNN) -- Former Starbucks CEO Howard Schultz, who has been publicly mulling an independent presidential run, is set to offer a glimpse of what his presidency would look like should he run and win in 2020, according to prepared remarks for a Wednesday speech obtained by CNN.
The billionaire plans to tell an audience at Miami Dade College that if elected president, he would reduce, not expand, executive authority. He will also work with Congress to rollback executive authority -- including the use of national emergencies -- with the exception of powers related to war and natural disasters.
Schultz will also say that as president, he would not sign any legislation that does not have bipartisan support or nominate a Supreme Court justice unless that nominee can be confirmed by two-thirds of the Senate.
Schultz has spent much of his time criticizing Republicans and Democrats without offering many specifics about his own campaign and the prepared remarks will be the most substantial proposals the businessman has made for what a Schultz presidency would look like.
The former CEO also plans to say that if elected, he would assemble a Cabinet that represents America, including a well-mixed group of Democrats, Republicans and independents, and include a greater share of women than any other previous president. A Schultz Cabinet would also include a diversity of race and sexual orientation, according to the prepared remarks.
According to an aide to Schultz, he also plans to say that if elected president, he'll tackle the issue of gerrymandering by calling for the establishment of of state commissions that will determine redistricting. The proposed commissions would be made up of Democrats, Republicans and independents.
Last month, Schultz answered questions about a potential run at a CNN town hall in which he discussed his positions on a number of issues. Should he enter the race to challenge President Donald Trump as an independent, Schultz would also compete against a crowded field of Democratic candidates with a range of private sector and government experience.