Michael Buble Leans in with Love and Laughter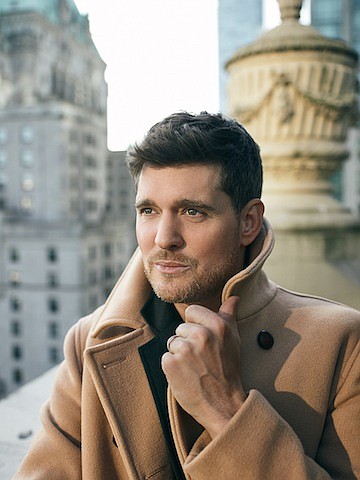 Michael Buble's first order of business when we began our conversation was to immediately put me at ease around his enormous celebrity. The multi-Grammy and multi-Juno Award (Canada's answer to the Grammy awards) winning singer who sells out the world's largest stadiums, has sold more than 60 million albums worldwide, and singlehandedly made us re-visit our love affair with the great American songbook, set out to calm my excitable sensibilities with his seamless charm and wit.
Upon picking up his call, a woman came on the line asking me if I was ready to speak with Michael. Two seconds later Michael, himself, came on the line and opened with, "She doesn't really work for me. I just have her do that to make me sound more important," as he let out a chuckle. My reply? "Well, too bad for me, I answer my own phone," and we shared a laugh. In reality, Buble's music is important to millions around the world who glean such joy and comfort from his flawless interpretation of some of the most iconic music of the 20th century, as well as original music written and performed by Buble. His original works have swiftly gone on to achieve classic status in the soundtrack of our lives.
The year 2019 marks a boon of personal and professional success, and a packed schedule for Buble. His family's much publicized heartbreak as they fought for their son Noah, as he battled pediatric liver cancer, set Buble on a new course of humility which was evident throughout our conversation. Now, with Noah's health much improved, Michael Buble re-emerged with a new album, aptly titled Love (or simply, the heart emoji) on which he collaborated with mega-music producer, David Foster; a sold-out worldwide tour and his seventh upcoming musical television special, set to air on NBC on March 20th.
My conversation with Michael Buble is one of his most authentic and reflective, to date. We cover the subjects of parenthood, success, spirituality, love, humor, and of course, the music.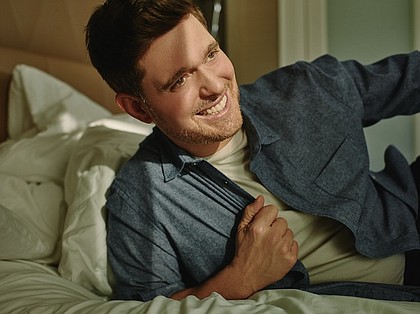 Allison Kugel: Hello Michael. How are you?
Michael Buble: If you hear kids screaming the background, Oh My God, so sorry about that. My daughter is running around screaming.
Allison Kugel: Aww, when I do my interviews from home, I have my nine-year-old running around in the background, so I get it!
Michael Buble: Boy or a girl?
Allison Kugel: A boy.
Michael Buble: You're probably like, (whispering) "Shhh, Stop it (laughs)." Does he know the deal with what you do?
Allison Kugel: He knows I interview people. It's funny, I had him with me one day for "Take Your Kids to Work Day." I was trying to impress him, saying how I interview all of these amazing people and showing him where my work is published, and his response was, "I'm bored."
Michael Buble: (Laughs) My kids love it. They're actually coming with me now on tour.
Allison Kugel: Is your wife on tour with you as well?