The iFly Experience: Fly Like a Dragon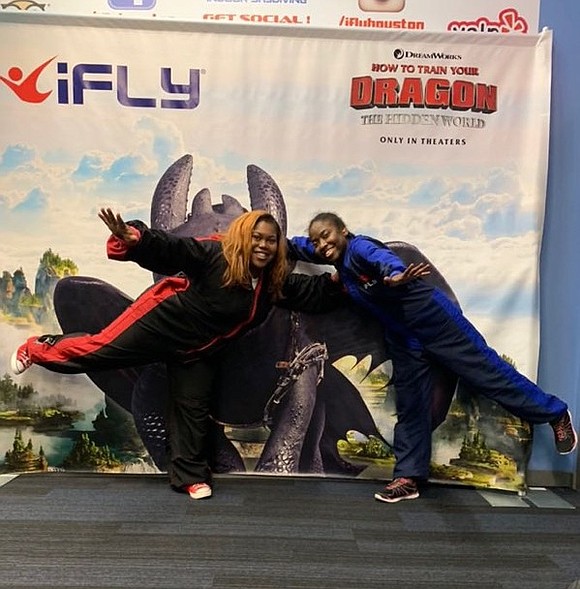 By Jo-Carolyn Goode and TotallyRandie
Stand tall. Arch your back. Bend your legs. And let your body go. Allow the high-speed air to lift your body as your flight instructor guides your body through swoops, turns, circles, up and down through a vertical wind tunnel. Nothing but you and the wind as you weightlessly float above the safety net. iFly Houston is giving exhilarating experiences in flight travel in a fun, safe environment with amazing, knowledgeable instructors for folks from 3 to 103. It is fun that won't break your back or your bank.
I got to experience this first hand when I visited the Memorial City iFly Houston. With giggly legs and over pumped heart I walked into the facility not 100% sure that I would undergo my first flight. However, my fellow adventure seeker writer was totally ready to go and wouldn't take no for answer from me.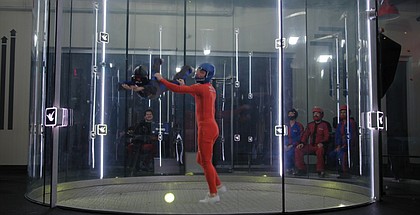 I would never skydive out of a plane. Nor would I ever bungee jump off the San Francisco bridge. However, I would allow high-octane air to propel me in a wind tunnel all for the sake of being a good reporter and to promote the new virtual reality experience of "How to Train Your Dragon" with iFly. DreamWorks Animation and iFly have partnered together to bring the thrill of flight and the experience of being in the movies for an unbelievable, exhilarating encounter. For a limited time only, flyers can go into the movie and fly along with the characters weaving in and around mountains, dipping into the tropical wetlands, and cozying up with winged wildlife.
So are you ready to fly like a dragon? Your training starts now. Here are the dos and don'ts. Do keep your chin. Don't open your mouth. Do relax. Do pay attention to your instructor. Mine was Jimmy and he's a G.O.A.T. Do have fun. Do wear tennis shoes. Don't leave your hair loose. Do pay attention to the instructional video. We got the boring stuff out of the way. Lets go have some fun.
Despite my jitters, the staff made me feel extremely comfortable. It started with the mandatory training session where all the rules and regulations are reviewed and proper flight position is learned. Things get real in the next step when you get fitted for your flight suit. Don't try to make this fashion statement. It is so not. Second grab your glasses, earplugs, and most important helmet. Strap all that on and prepare to enter the tunnel. For me, this was the most nerving part. The sitting and waiting as each flyer went before me took their turn. Your girl was scared. Although I felt really silly for feeling that way because literally sitting next to me was a kid who looked all of seven-years-old who couldn't hold his seat he was so ready to go.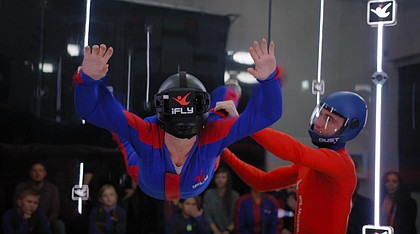 Person after person went into the chamber for their flight. They all looked pretty good. They all made it looked easy. As my writer, cheesing and geeked out happily hit me, "We're next!" I felt the pit in my stomach. Finally, it was my turn. Trustingly, I allow myself to fall into the hands of my instructor and wonder, "Why was I so scared?" It was amazing! I felt as if I was gliding through the wind by myself even though my instructor was doing all the steering. I never felt unsafe or out of control, just free. The only thing I was kind of mad about was my flight was so short. Each flight is only 60 seconds.