Executive Trainer, Professor, and Global Speaker, Orobosa Owie hosts her first Power of Your Presence Brunch
A Girl from Brooklyn Passionately Leading New and Seasoned Professionals to be Their Best Selves and Live Their Best Lives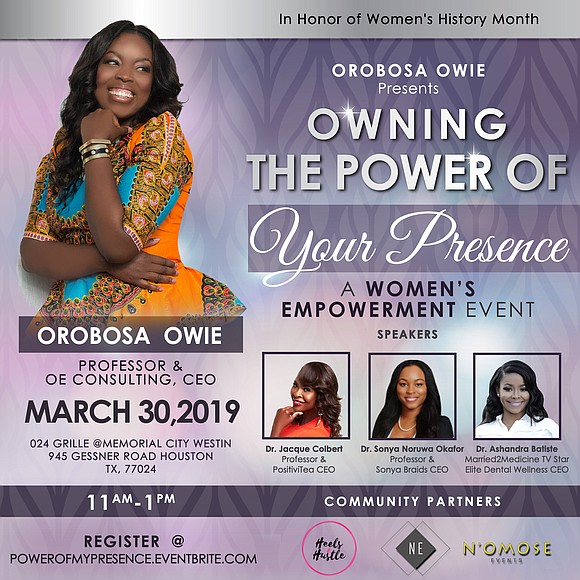 Houston, TX - With the January 15th Orobosa Owie released of her first book and added published author to her list of titles. The book was entitled Be Bold, Be Confident, Be You: A Motivational Guidebook in Shattering the Fear Ceiling shares the seven steps of self-mastery, guiding readers to successfully move toward personal and professional fulfillment. In celebration of the book and in connection with International Women's Month Orobosa launched the Power of Your Presence brunch series.
Orobosa has coined the weekend as the "Power of Your Presence" weekend, a celebration of women. Orobosa is a professor, corporate trainer, author and leader in professional communities across the country. Orobosa's has shattered her fears, and against all odds beat all challenges she has faced. At an early age Orobosa lost her mother and battled with depression, however Orobosa knew she was destined to do great things. Through her exceptional work in the community Orobosa was invited to the 2010 Round Table Discussion by the Obama administration to discuss the launch of the Young African Leaders initiative and it's Nelson Mandela Fellowship. Orobosa has been recognizes by Young African Professionals as one of the Top 40 Emerging Leaders, as well featured in Forbes Coaches Council, the New Jersey Small Business Development Center Council, and has been endorsed by several notable leaders like New York State Senator Leroy Comrie and institutions such as Columbia University.
The Weekend will include a book signing 3/29 from 7pm to 9pm at Barnes & Noble in River Oaks promoting her new book, Be Bold, Be Confident, Be You: A Motivational Guidebook in Shattering the Fear Ceiling, and The Power of Your Presence Brunch, a panel discussion with Dr. Ashandra Batiste- Married2Medicine Houston TV Star and CEO of Elite Dental Wellness, Dr. Jacque Colbert- Author, Breast Cancer Survivor, Professor and CEO of PositivTea, and Dr. Sonya Noruwa-Okafor- Professor, Women's Ministry Leader and CEO of Sonya Braids at 024 Grille located within The Westin @ Memorial City. More information on Orobosa and Be Bold, Be Confident, Be You can be found at orobosaowie.com and she can be followed on social media at @orobosa_leads.