Why the 2020 Senate Map Looks Better Than It Actually Is for Democrats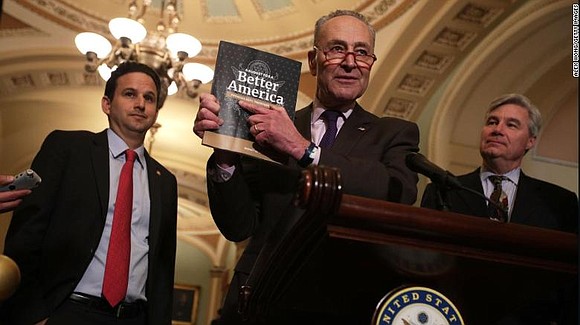 At first glance, 2020 looks like the year where Democrats should take back the Senate majority. They have only 12 seats of their own to defend while Republicans have 22. In years past, that sort of disparity has been a recipe for success for the minority party; more targets to shoot at = more likelihood of success.
And that may be true in 2020, too! But looks -- in politics and life -- can be deceiving. And once you get beyond the raw numbers in the battle for the Senate majority, the path for Democrats looks much, much tougher.
Start here: To win back control, Democrats need a net gain of three seats if their party's nominee beats President Donald Trump next November and a four-seat pickup if Trump is reelected. (The vice president breaks ties in the Senate, giving the party who controls the White House effective governing power in the Senate.
That's a small number -- seemingly. But, in only two of the last five elections has either party picked up more than three seats. In 2018 (Republicans +1), 2016 (Democrats +2) and 2012 (D+2), the gains all fell short of the minimum pickup Democrats need for the majority in 2020.
Then there's the actual seats in play -- which is a far smaller number than the 34 that are up for election (or reelection) in 2020. According to the Cook Political Report, a non-partisan political handicapping service, eight of Democrats' 12 seats are considered "safe" for their side, while 12 of Republicans' 22 are rated the same. Which means that the real 2020 playing field -- barring any sort of catastrophic unforeseen circumstances in the "safe" seats -- is four Democratic seats and 10 Republican seats.
And in truth, the number of truly competitive seats come next fall -- when both sides start spending millions to persuade voters -- is likely even smaller than those 14 seats. At the moment, there are really only four seats (1 Democratic, 3 Republican) that are nearly certain to produce close contests in 2020.
The one Democratic seat is in Alabama, where Sen. Doug Jones won a 2017 special election thanks, in large part, to Republican voters choosing the deeply politically damaged Roy Moore as their nominee. Moore spent the general election attempting to beat back allegations that he had repeatedly pursued relationships with teenage girls when he was in his 30s. Despite all that, Jones barely won, with a margin of just over 20,000 votes. Because of Alabama's strong Republican lean -- Trump carried the state by 28 points in 2016 -- Jones immediately became the most endangered incumbent on the ballot in 2020. There's a long list of Republicans likely to run, but Rep. Bradley Byrne looks like the early favorite.
For Republicans, Colorado and Arizona are their biggest vulnerabilities.
Colorado Sen. Cory Gardner has, by all accounts, done nearly everything right in his first term but has the unfortunate distinction of being one of only two GOP incumbents up for re-election in a state Hillary Clinton won in 2016. That fact has attracted a litany of Democratic hopefuls, including two past losing statewide candidates in former state Sen. Mike Johnston (lost a primary for governor in 2018) and former state House Speaker Andrew Romanoff (lost a primary for Senate in 2010 and a House race in 2014).