Macy's Kicks Off Its Annual Believe Campaign Benefitting Make-A-Wish
Believers of all ages can send letters and deliver wishes to children with critical illnesses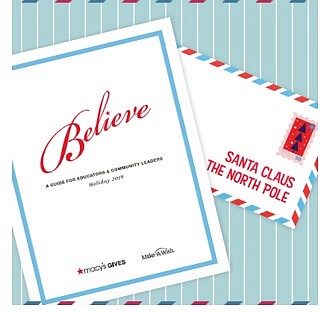 Macy's beloved Believe letter-writing campaign, benefitting Make-A-Wish®, returns for the 12th consecutive holiday season giving the gift of joy to children with critical illnesses. From now through Dec. 24, 2019, Macy's is asking customers of all ages to write letters to Santa and drop them off in stores in Macy's red Believe Mailbox or submit them online at macys.com/believe. For each letter sent, Macy's will donate $1 to Make-A-Wish, up to $1 million, to help children's life-changing wishes across America come true.
The wishes granted through Macy's Believe campaign can help Make-A-Wish children battling critical illnesses build the hope and strength they need to fight harder and see the impossible become possible. There are thousands of wishes currently waiting to be granted, including the wishes of these five Make-A-Wish children who are the faces of this year's Macy's Believe campaign.
· 4-year-old Brantley, congenital heart disease, wishes "to go to Colorado and build a snowman"
· 13-year-old Julia, cancer, wishes "to go to Ghana to visit extended family"
· 18-year-old Priscilla, heart condition, wishes "to go to Italy where the violin was made"
· 4-year-old Alan, brain cancer, wishes "to be a submarine driver"
· 14-year-old Bettirose, leukemia, wishes "to be a writer and write my own book"
"Macy's Believe campaign seeks to capture the joy and generosity of the holiday season by asking the community to come together to help grant wishes," said Sam Di Scipio, Macy's senior director of corporate communications, giving and volunteerism. "We are proud of the passion that our colleagues bring to the campaign and grateful to our customers nationwide for turning this program into a holiday tradition and continuously benefitting thousands of children each year through Make-A-Wish."
"We are immensely grateful for the 16-year Macy's partnership and its impact, from the dollars raised to the community rallying each holiday season to transform the lives of children," said Richard K. Davis, president and CEO of Make-A-Wish America. "Together, we are getting closer to granting the wish of every eligible child, so that each child battling a critical illness can get a piece of their childhood back."
Since 2003, Macy's has donated more than $122 million to Make-A-Wish, including more than $19 million through the annual Believe campaign, helping grant more than 14,500 wishes and impact more than 2.9 million people, including wish kids and their families, volunteers, community groups, medical professionals and more. In addition to mailing your letter to Santa, find writing guides, local wish stories and more at macys.com/believe. Join the conversation on social by tagging #MacysBelieve.
Make-A-Wish Kid Hank's Wish
Earlier this year, in partnership with Make-A-Wish, Macy's was able to help fulfil the wish of 18-year-old Hank from Idaho Falls who wished "to be a model and have his photos used in an ad." Hank was flown out to New York City, where he joined the Macy's creative team for a two-day photoshoot of Macy's official Holiday Campaign. Hank was styled by Macy's fashion team and learned how to pose and model prior to being photographed with some of the top talent in the industry. Hank will make his professional modeling debut in Macy's Holiday Campaign, which will be published the second week of November.