Kedrick Brown Is Golden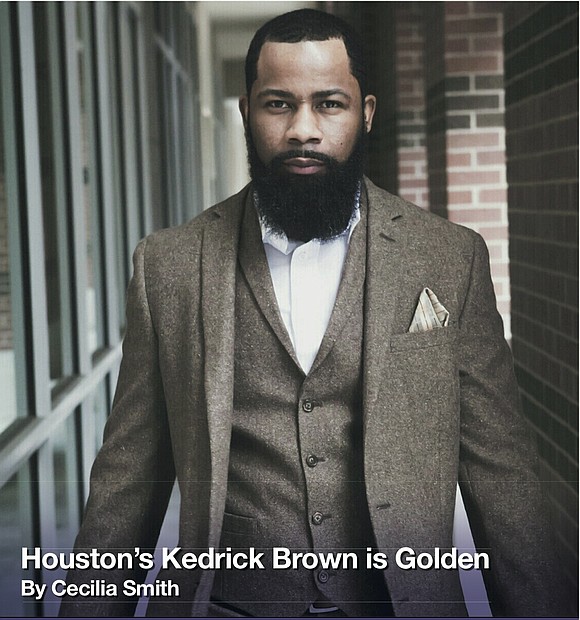 The last time we spoke to actor Kedrick Brown, he was proudly bringing his own seat to the table, landing roles in everything from Greenleaf to Survivor's Remorse. Since then he's only continued to grow, building a table for a new generation of actors through his work as a theater arts instructor at Houston's Audrey H. Lawson Middle School.
Still, acting is in his bones. Juggling the duties of being an educator, with the demands of a growing acting career - and somehow, he's making it work. In addition to reprising his role on the Spike Lee produced Black Lightning, the Texas native recently made an appearance on the NBC hit, New Amsterdam. And in between all of that, Brown still made time to sit down with Houston Style Magazine to discuss his evolving career, the importance of building young minds, parenthood and more.
How New Amsterdam hit close to home:
Working on New Amsterdam, my scene was really important to the Black community and how Black men in particular are so lackluster with our health. Dr. Max Goodwin (played by actor Ryan Eggold) is more about health and helping people, than he is about the business side of the hospital. Everything has become so business oriented that we've lost our humanity in a sense. I play a young man that's been personally affected by poor health decisions.
Returning back to Black Lightning:
I'm able to relate to the character, to the community. Being a teacher on Black Lightning and in real life definitely gives me that real life experience to portray that character truthfully and genuinely. The same students that they write about in TV shows and in movies, I deal with them daily. So knowing their behavior traits and circumstances rang true, because I deal with it on a daily basis.
On the impact of serving youth:
We're starting to add even more for my students. A lot of them are more interested in the film and television side given that they're around me on a daily basis. Every move, every breath - they will literally sit underneath my chair and soak it all up. When I was their age I was told there was a million to one chance I'd ever end up on television. And it's true if you look at the odds. Making it on national television, you have about the same odds as making it in the NBA or NFL. But I did it. I was fortunate to be one of that million, and I tell my kids that everyday. Somebody in this room could very well be that. Or two. Or three. I see this as a way to give back.
How being supported has allowed him to serve dual roles:
My theater program has shifted the mind frame of not just the kids, but their parents as well. When we did our Christmas show, it was a sold-out house. Do you know that 465 seats sold? Line wrapped around the building. That is support. That is a shift. Coming from a community where theater isn't always given that. So the support, the interest - they can't wait until the next show. Principal (Kasey M. Bailey) is truly an ideal administrator, the type you want at your school because she's simply amazing at what she does; especially the work she's done to turn the school around in just two years. She doesn't make decisions for us, because she trusts that I know what's best for the program. The fact that she trusts me is huge, because if anything goes wrong it falls on her head.
I'm also a huge advocate of our current superintendent (Grenita Lathan). She's very much interested in the student community and what they have going on, and I'm proud to always be able to have a conversation with her. Being an actor, I'm a very good reader of people - like who's in it for the real deal. It's my job to know what type of person you are and Dr. Lathan definitely offers genuine support. So I'm extremely grateful to have that support and ability to share what I know about the industry. I just look forward to watching my students grow, not just as actors, but as human beings. As productive, well-thinking members of society.

Using his passion to share learning lessons:
We all have a story to tell. Whether we yell, or we listen. Somebody's going to listen. I don't just teach theater, I teach life. Sitting in that seat, fighting the same economic conditions that these little black boys face. It's a ton of pressure to deal with at that age. So in my program we utilize our emotions in theatrical form to promote healing. Being an educator is a big responsibility. Kids look forward to seeing me come to class. I come in there and I make it a personal mission to give it 110% everyday - then I dive into my own career work and its definitely driven through passion.
Embracing parenthood:
Becoming a dad has absolutely changed my life. My daughter is eight months, she's growing, she's healthy. Her first words were "dada" and I'm extremely happy about that. Parenthood is something I never expected, but I love it. Now everything that I do is for her.
Looking to the future:
I just want to see my acting career lead to bigger and better opportunities - and somehow help others grow as artists too. There's a lot of lessons I've learned in the industry, and I'm able to offer advice to them. One of the greatest things I ever learned in acting class was being able to lose. Instead of raising my voice higher, I learned to lose myself in a character, in a role. There is greatness is actually being able to lose, because it helps you grow and it exposes you in a way that other people can relate to. That's why people relate to super villains so much, they love villains. I just want to continue to grow, to act.
I don't let distractions get to me. Sometimes there is no solution, it is just what it is. Whatever your rock of salt is, you have to be able to let it go.