Let the Holiday Travel Begin: Why Velas Vallarta Should Be Your Next Holiday Vacation Getaway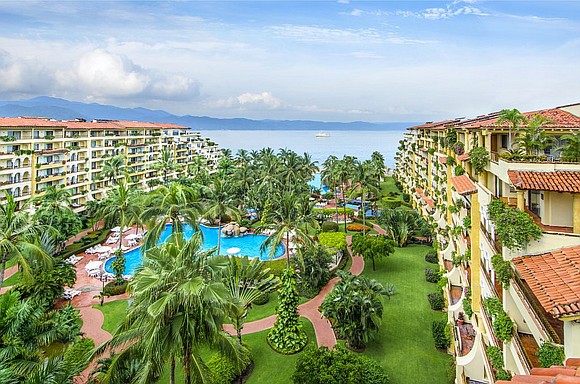 The holidays are just around the corner, and while some will start planning family gatherings and festivities, for others, becoming part of the holiday traveling trend is becoming more of the norm holiday tradition. After all, sitting beachside with cocktail hand while listening to the melodic sounds of the ocean waves crashing does sound tempting, doesn't it?
So, let's talk travel and let's talk Mexico! From Houston, direct travel to the best beach destinations in Mexico can be pretty cheap but you will want to book right away; flights do tend to get more costly as the holiday dates get closer. And if you are looking for a laid back destination if traveling solo, with a significant other, or even with children, then Velas Vallarta, Puerto Vallarta is the resort for you. This all-inclusive beachfront resort touts itself as a resort dedicated to providing the ultimate all-inclusive vacation on Mexico's Pacific Coast. So of course I had to visit - although I was quite skeptical considering my previous visit to a different resort was probably one of the worst vacations I've ever experienced. However, Velas Vallarta truly changed my mind about Puerto Vallarta – luxury resort experience without the hefty luxury price tag.

(As I sit and type these words, I anxiously await the opportunity to return once again.)

After the airport experience, I'm usually quite anxious to arrive to my destination, unpack and head out to the beach so the fact that Velas Vallarta is only minutes away from the airport is a bonus because that means less time commuting and more time vacationing! Upon check in, the staff greeted me with a refreshing cocktail (always appreciated) – quickly checked me in and a staff member escorted me to my room while giving me a brief history of the resort and notifying me of all of the amenities offered. The resort's luscious green foliage landscape, wind blowing upon my face with the clean crisp ocean air fragrance and the welcoming smiling faces automatically put me at ease and just like that, the woes of my everyday hustle and bustle seemed to dwindle away.
My one bedroom suite was way roomier than most resort suites. The spacious kitchenette was fully stocked with water, sodas, and beer. There was also a snack basket filled with chips, nuts, granola bars, popcorn and much more – which can come in handy during those times that you want to munch on a little something and don't necessarily want to get dressed to go to one of the restaurants or poolside bars. Drinks and snacks are complimentary and restocked daily at no extra charge if you opt for the resort's all-inclusive plan.
The recently updated bathrooms are spacious and have plenty of counter space which is completely appreciated if you are anything like me and my over abundance of toiletries. The bedroom has a huge sliding glass door that opens up to a spacious balcony that can also be accessed from your suite's living area.