Joseph Benavidez Flyweight Title in Jeopardy?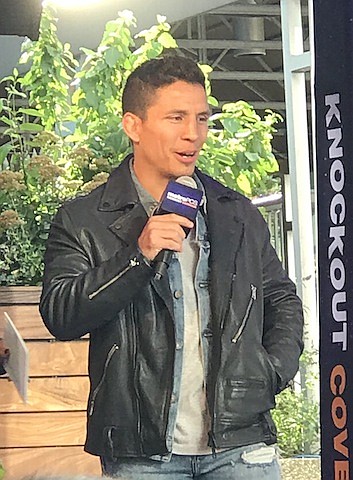 San Antonio native Joseph Benavidez has been promised a UFC title shot. The trouble is, he doesn't know who he'll be facing or when they'll be fighting.
Benavidez (15-3 UFC, 28-5 MMA) has been given the nod from Dana White himself that he's next in line to fight for the UFC Flyweight belt - "Benavidez is ready. It's the right thing to do". However, reigning Flyweight world champion Henry Cejudo (9-2 UFC, 15-2 MMA) is dragging his heels when it comes to setting a date.

Will they, won't they?
Henry "Triple C" Cejudo currently holds both the UFC Flyweight and Bantamweight titles, but he's been out of action since June due to the extensive shoulder surgery he needed after sustaining an injury in the early rounds of his fight against Marlon Moraes at UFC 238.
Despite still waiting for medical clearance to commence training and competing, hopes are high that come March Cejudo will make his return to the Octagon. The problem is, he's refusing to give a straight answer as to whether or not he'll fight Benavidez, leaving "Joe Jitsu" waiting on the sidelines for perhaps no reason at all.
Understandably frustrated, Benavidez told MMA Junkie that the situation needs some urgency, since he doesn't "want to wait till March to not fight him". Aware that UFC matchmakers will already be "looking at January cards", Benavidez is willing to wait until March for this long-awaited rematch, but he's not prepared to wait until then "to fight for a vacant (title), where it's like you don't want to fight anyway".
Although a title fight against Cejudo would be the Texan's first choice, he'd much rather fight in January for a vacant Flyweight title (most likely against Deiveson Figueiredo, who is experiencing much the same trajectory as Benavidez) and defend it, than wait around for Cejudo to make a decision about whether he will actually fight him or not.
Even White himself, the President of the UFC who was involved in the $4 billion sale of UFC, has put his foot down on the matter, stating that the promotion really wants to see Cejudo fight Benavidez for the 125lb title and that there could be serious repercussions for the double title holder if he doesn't - "It's the right thing to do. If he can't, he needs to give up one of the belts".
"King" Cejudo
Meanwhile, the self-professed owner of "some kingdoms" is refusing to play ball, stating that White "can say what he wants...but when you own two weight classes...I have the leverage".
Benavidez was, of course, the last man to defeat Cejudo, taking a split-decision win back in December 2016 after the duo competed in the coaches bout on "The Ultimate Fighter 24".
That's likely to be playing on Cejudo's mind, especially since Benavidez is currently riding a three fight winning streak after making short work of Jussier Formiga at UFC on ESPN 3 in June. Benavidez has pretty much stated this himself, declaring that "it's really on him (Cejudo)...to come back and defend".