The Greater Houston Black Chamber Welcomes Actress, Comedian Kim Coles as Keynote Speaker at 3rd Annual Women in Business Conference Keynote Speaker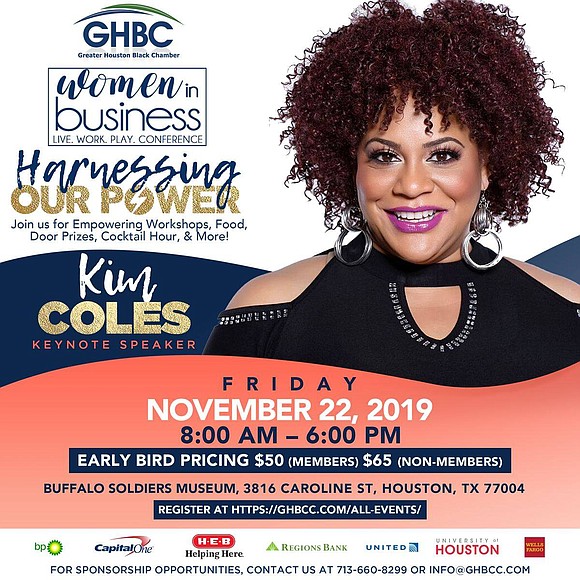 The Greater Houston Black Chamber (GHBC) announces its 3rd Annual Women in Business Conference to take place on Friday, November 22, 2019, from 8AM – 6PM at the Buffalo Soldiers National Museum located at 3816 Caroline St., Houston, TX, 77004.
The Women In Business event began as a breakfast series six years ago and has since evolved into an all-day interactive conference, networking event and one of the year's biggest draws for successful women in the Houston business community.
Celebrated actress, comedian and author Kim Coles will close out the conference with her keynote address. The one-day event will offer workshops, panels, round table discussions, demonstrations, breakout sessions and a book signing and meet-and-greet with Coles.
Best known for her role as Synclaire James on the hit 90s sitcom Living Single, Coles travels the nation as a motivational speaker, encouraging readers to find life purpose through her book Open Your G.I.F.T.S.: 42 Lessons of Finding and Embracing Your Blessings in Disguise. Angela Dees, motivational speaker and author of the Amazon best-seller Bring Out the Millionaire in You: Your Journey to Financial Freedom, will provide a roadmap to financial success. Business breakout sessions will cover topics such as doing business abroad, entering the cannabis industry, integrating work and life, PR and marketing, and more. A Women Who Lead panel discussion over lunch will feature representatives from some of Houston's biggest corporations speaking about leadership.
The event is open to public, and registration is required.
Register here or visit https://GHBCC.com/all-events/ . For sponsorship opportunities, contact the GHBCC at (713) 660-8299.