The NBA Fashion Mavens: Rockets' Harden and Westbrook Are In!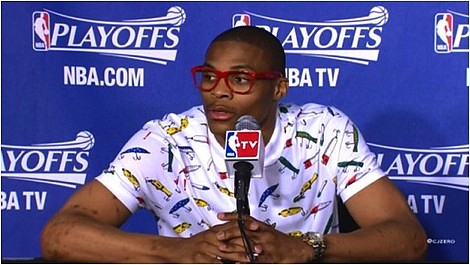 By George Lewis, Special to Style
It is that time of the year once again. The 2019-2020 NBA season is in full swing, which means players, fans, and everyone in between will be treated to some of the flashiest, most heart-pounding basketball actions in the world. Of course, part of the excitement this year is seeing the newly revamped Houston Rockets live up to their potential and raise the stakes both on and off the court. All the Xs and Os aside, Mike D'Antoni's team brings a lot to the table, especially when it comes to their flashy entrances.
The past off-season saw former league MVP and perennial triple-double machine, Russell Westbrook, joining an already potent Houston Rockets team bannered by another former MVP in James Harden. Together, the two dynamic guards form a lethal partnership that not just brings rabid enthusiasm on the floor, but breaks the barriers of fashion off of it as well.
Russell Westbrook and James Harden are, hands down, two of the most stylish basketball players in the NBA. Night in and night out, they showcase a distinctively creative, somewhat out-of-this-world fashion sense, which puts many high-profile models to shame. At first glance, Westbrook leans toward the old-school, The Fresh Prince of Bel-Air vibe, whereas Harden's is more of a sleek dresser.
In our post on 'The Fall of Sagging Pants Era is Upon Us' fashion writers, even local lawmakers, have been lobbying for the total extinction of the so-called "droopy drawers" movement. Russell Westbrook, for his part, elevated this sort-of loose, urban street style. As soon as he struts into the arena before a game, cameras either see Westbrook wearing baggy and outlandish outfits that seem to be a product of a late night shopping spree, or a simple shirt-and-jeans get up with personalized Jordan brand kicks.
James Harden's style, on the other hand, is a bit similar to another former MVP in LeBron James. Last season, for example, Harden and LeBron famously wore shorts and suit ensemble that kind of blurred the line of casual and formal. These players can get away with these quirky pieces, as they, along with Westbrook, have some of the most lucrative contracts on the planet. Currently, LeBron James is the highest paid basketball player in the world and second highest earning sportsman on the planet. The Houston duo are not far behind, with Westbrook pocketing $82.8 million this season and Harden netting $80.9 million from salary and endorsements combined. No wonder these stars can splash out on creating their own unique style without caring what anybody thinks.
Speaking of getting a huge chunk of money from endorsements, similar to LeBron James, Russell Westbrook and James Harden's marketability is off the charts. Westbrook signed huge deals with the likes of True Religion Apparel, Samsung Electronics, and Pepsi Co. Many even consider him one of the faces of the Jordan Brand line of basketball shoes. Harden carries brands such as BODYARMOR, State Farm, and Foot Locker. In addition, he has a highly successful roster of signature shoes from Adidas.
In order to be one of the most fashionable man in the NBA, James Harden formed a winning partnership with in-demand celebrity stylist Kesha McLeod. Aside from styling other professional athletes like Victor Cruz, Andre Iguodala, and Serena Williams, she has been providing valuable stylish insights to Harden, most notably during the 2018 Paris Fashion Week. McLeod even has fellow Houston Rocket, P. J. Tucker, in her roster of clients.
With their high-octane brand of basketball, there is no doubt the Houston Rockets is must-see TV this season. Now with Russell Westbrook joining James Harden and company, they can further stake their claim and solidify their place as the most stylish NBA team.