Just Mercy Pre-Reception in Atlanta with Film Star Karan Kendrick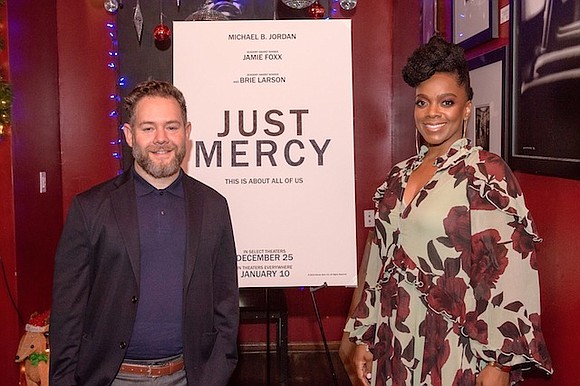 Prior to the HBCU screening of Just Mercy, film star and Georgia native, Spelman graduate and AKA, Karan Kendrick, hosted a lovely pre-reception mixer for members of the Equal Justice Initiative and various HBCU leaders and students.
The jam-packed mixer was held at the chic and artsy bistro, Apres Diem, where our VIP guests enjoyed mingling among themselves and getting the chance to interact with Karan in an intimate setting, congratulating her on her work and touching on some of the issues in the film. In attendance was also the film's producer, Asher Goldstein, who engaged in pre-screening conversations with guests discussing all things Just Mercy, without giving away any spoilers, of course.
Once the screening concluded, we held a not-to-be-missed Q&A moderated by Bridget Todd from AFROPUNK, who was joined by Karan as well as EJI members Kiara Boone and Jonathan Kubakundimana. The audience was thrilled to engage with real people who are so closely tied to the film's subject matter and to listen to the panelists' poignant commentary on how we all must make a point to act with kindness, love, and mercy.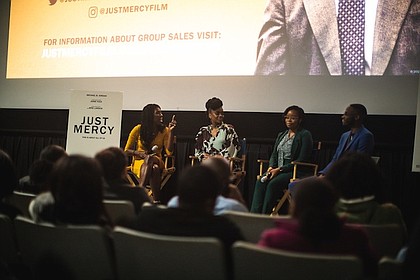 "Just Mercy" is a powerful and thought-provoking true story, "Just Mercy" follows young lawyer Bryan Stevenson (Jordan) and his history-making battle for justice. After graduating from Harvard, Bryan might have had his pick of lucrative jobs. Instead, he heads to Alabama to defend those wrongly condemned, with the support of local advocate Eva Ansley (Larson). One of his first, and most incendiary, cases is that of Walter McMillian (Foxx), who, in 1987, was sentenced to die for the notorious murder of an 18-year-old girl, despite a preponderance of evidence proving his innocence and the fact that the only testimony against him came from a criminal with a motive to lie. In the years that followed, Bryan becomes embroiled in a labyrinth of legal and political maneuverings and overt and unabashed racism as he fights for Walter, and others like him, with the odds and the system stacked against them.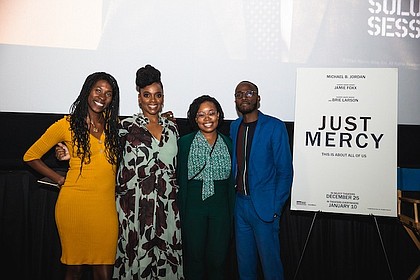 "Just Mercy" is directed by Destin Daniel Cretton and written by Destin Daniel Cretton and Andrew Lanham, it was produced by Stevenson with Michael B. Jordan, Mike Drake, Tami Goldman, Asher Goldstein, Gabriel Hammond, Charles D. King, Ninja Kuykendall, Jennie Lee, and Gil Netter. It stars Jamie Foxx, Michael B. Jordan, Karan Kendrick, Brie Larson, and O'Shea Jackson Jr.