C. Baldwin Officially Opens its Doors, Honoring the Past and Welcoming the Future of Hospitality in Downtown Houston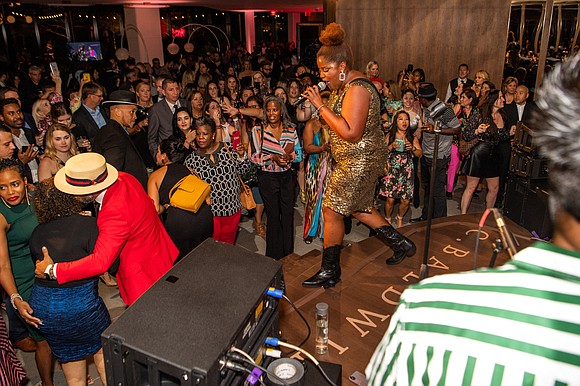 C. Baldwin, Curio Collection by Hilton, Houston's newest one-of-a-kind hotel, welcomed nearly 2,000 VIP guests to celebrate the hospitality milestone. Located at the western gateway of downtown and serving as the new social anchor for the landmark Allen Center – one of the neighborhood's first mixed-use developments – the 354-room Curio Collection property honors Charlotte Baldwin Allen, an instrumental figure in the early development of the Bayou City.
"C. Baldwin represents the best of what downtown Houston has become while recognizing the women intertwined in its history," said Maggie Rosa, general manager, C. Baldwin. "A concerted effort was made not only to involve female decision makers in the hotel's development, but to also create spaces that would appeal to the female traveler while naturally intriguing their male counterparts."
Resting above the main entrance of the hotel, a 111-foot living native plant wall displays an "X" to remind visitors to make their mark in the world, inspired by a time when Baldwin was unable to sign her own name to legal documents when conducting business matters.
C. Baldwin showcases the best of the city as it relates to hospitality, community and cuisine. The property boasts stylish accommodations and stunning common areas, state-of-the-art meeting and event spaces, signature restaurant Rosalie Italian Soul from Top Chef Master Chris Cosentino with rising star Sasha Grumman at the helm, a chic clean beauty retreat Paloma, and experiential boutique Sloan/Hall.
"With Hilton recently named the #1 Best Workplace for Women in the U.S., this is an especially fitting time for us to welcome C. Baldwin to the Curio Collection by Hilton portfolio," said Jenna Hackett, VP, Global Head, Curio and Tapestry Collections by Hilton. "By its name alone, this property sparks curiosity, and its location offers an amazing starting point from which to explore this incredibly dynamic and diverse city that is increasingly on the forefront of places to discover."
Like its namesake, C. Baldwin is a monument to strong female visionaries. The masterful design was brought to life by internationally-renowned Lauren Rottet of Houston-based Rottet Studio, as well as award-winning Kate Rohrer of Philadelphia's ROHE Creative.
Rohrer brought a vibrant aesthetic to the property's restaurant, named after Cosentino's great-grandmother Rosalie, a first-generation Italian immigrant that taught the chef how to bring her recipes to life. Drawing from Rosalie's 1970s kitchen, the mid-century inspired ambiance plays with contrasting materials that combine geometric and organic forms to elevate the space. C. Baldwin's culinary offerings also include a convenient Good 2 Go coffee and snack bar in addition to an expansive lobby bar with a signature staircase and chandelier that serves as a focal point of the hotel's lobby.
C. Baldwin guest rooms and suites are outfitted with modern and sophisticated décor and boast ample natural light with floor-to-ceiling windows. Premium rooms and suites on floors 15 to 20 provide sweeping views of the city and the surrounding Allen Center. The interior décor of C. Baldwin carries its overarching theme to its walls, adorned with original portraits of fierce Houston women with flashy cars shot by local photojournalist Elizabeth Conley. Select corner rooms are outfitted with Peloton cycles, providing active guests with a wellness option in the privacy of their own room.