Turkey Leg Hut Owners Receive Pinnacle Award from Greater Houston Black Chamber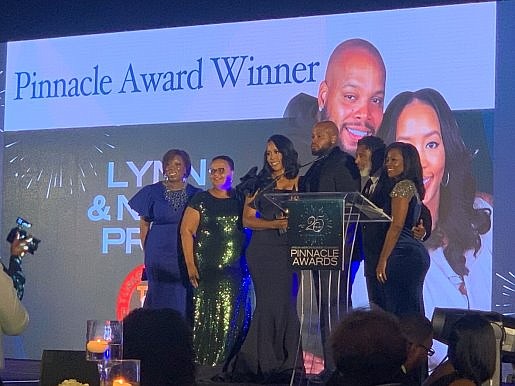 Turkey Leg Hut Founders Lynn and Nakia Price were honored as recipients of the Pinnacle Award at the 25th Annual Greater Houston Black Chamber of Commerce Awards on Saturday, October 19, 2019!
The GHBC Pinnacle Award recognizes leading African-American entrepreneurs for their success in business and their positive impact on the communities and industries they serve.
The Price's were one of five recipients to be recognized with the coveted annual award at a formal ceremony held at the Marriott Marquis Hotel in Houston over the weekend.
"We are deeply honored to be recognized by this empowering organization that has paved the way and provided resources for Black business owners for 25 years in Houston," said Turkey Leg Hut founder Nakia Price. "We'd like to extend our gratitude to the Greater Houston Black Chamber for the Pinnacle Award and congratulate all those recognized for their contributions and achievements this year."
Lynn and Nakia Price first introduced Houston to their smoked turkey legs in a family-owned parking lot outside the Rodeo in 2015. Over the past two years, the Turkey Leg Hut, with its Texas-sized turkey legs stuffed with everything from Shrimp Alfredo to Mac & Cheese, has attracted a constant line of patrons that wraps around the building and rave reviews from celebrities like Kevin Hart, Drake, Snoop Dogg, and a host of others!
The young power couple were awarded the Pinnacle Award for their leadership among Black businesses in Houston and their contributions to the local community. The Turkey Leg Hut's husband and wife team continually give back and partner with local organizations to support the community as much as possible throughout the year.
They also received recognition for helping revitalize Houston's Historic Third Ward. The Price's recently held their first-ever Turkey Leg Hut Fall Festival & Block Party to promote unity and stimulate economic development for businesses there, launched a TLH Express mobile food truck and are planning three new expansion businesses; a Daiquiri Hut, Breakfast Hut, and Savoy Urban Beer Garden.
Lynn and Nakia Price are honored to be recognized by the Greater Houston Black Chamber of Commerce and hope their recognition, and that of their peers, will inspire up and coming Black entrepreneurs to follow their dreams.