Given 2% chance of survival, 'Batman' came to the rescue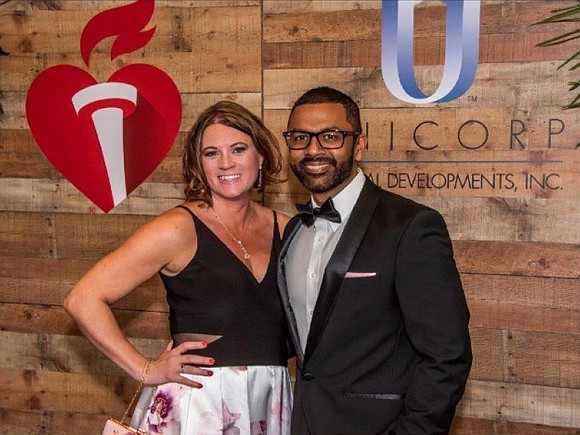 By American Heart Association News
"Hey, look, it's Lazarus, back from the dead."
Steve Seeram was confused. Regaining consciousness, he recalled being diagnosed with a blocked artery and being prepared to undergo a routine non-invasive procedure to implant three stents. Doctors had said he'd be home the next day.
"What are you talking about?" Steve asked. He looked down and saw a large bandage on his chest.
"You had open-heart surgery," Dr. Clay Burnett told him. "You died on my table twice. I literally had your heart in my hand."
Then Steve, still confused, noticed the doctor's surgical cap. It was covered with Batman emblems.
"Why are you wearing a Batman hat?" Steve asked.
Burnett said "Batman" had been his nickname playing college football.
But Steve later saw another reason. Burnett was his superhero.
Nearly a week earlier, on Aug. 6, 2016, Steve, then 44, woke up in the middle of the night gasping for air. He was unnerved, but fell back to sleep until the alarm went off. It was time to hit the gym before work.
His younger brother had died of colon cancer at 32 a decade earlier. Since then, Steve, whose family history also includes diabetes and heart disease, had devoted himself to a healthy lifestyle. He'd lost more than 20 pounds, gained muscle and maintained a nutritious diet.
On the treadmill at the gym, Steve felt short of breath and cut his workout short. While driving to his office in Orlando, Florida, he called his wife, Christina, but brushed aside her suggestion to go to the doctor.
She got a second call from him later that morning, this time from the back of an ambulance, asking her to meet him at the hospital.
Doctors discovered his right coronary artery was fully blocked. He needed a stent implanted via cardiac catheterization, a procedure their hospital wasn't equipped to perform. So paramedics took him to a hospital that could.
Christina was concerned but not alarmed. She picked up their daughter, Abigail, who was then 4, and drove to the hospital. A friend insisted on joining her for the wait.
"They told me it would take two to three hours, and when it crossed over into five hours, I got nervous," Christina said. "Four doctors came and said to follow them. I remember running through the long halls of this huge hospital for what felt like forever. We reached an area that said Cardiac ICU Unit and I thought, 'This can't be good.'"
Doctors told Christina complications had arisen. One of the stents ruptured. Repairing it required open-heart surgery.
While Steve was in recovery, another rupture caused accumulation of fluid in the pericardial space, putting pressure on his heart. Called a cardiac tamponade, the syndrome prevents the heart from properly filling with blood.
"We've run into serious complications and need to do another surgery," Burnett told her. "This has a very low survival rate, about 2%."
He told Christina she could see Steve very briefly.