Sponsor a Meal for the Emergency First Responders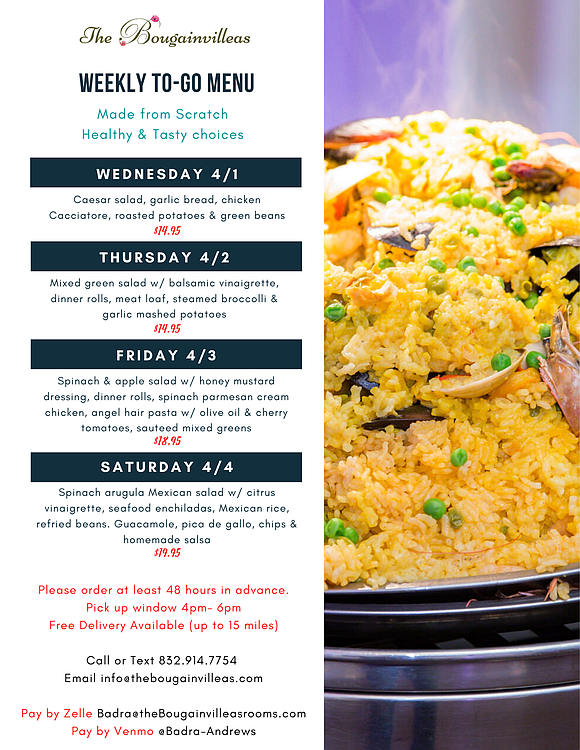 Amid the ongoing coronavirus outbreak, you can now give back to the hard working first responders who are tireless working around the clock and send them a meal through The Bougainvilleas, 12126 Westheimer Rd, Houston, Texas 77077. The First Responders Appreciation Meal it's an opportunity for companies to support, encourage and say Thank You.
The Bougainvilleas gesture sends a bit of sunshine with your help to those who are working overtime to protect the public. Please join the #HoustonStrong community and donate a meal today. Sponsors can select their local first responder, or we will happily make the selection for you. Sponsors may support as few as ten or as many as a hundred+ meals.
The Bougainvilleas Team will carefully prepare and deliver your order for you. The meal will be accompanied with a Thank You card and your name. You will also receive a photo of your first responder enjoying their meal. All sponsors will have the option of company recognition via social media etc. or remaining anonymous.
Your leadership and generosity support not only our first responders, but also our hardworking employees.
"Alone we can do so little; together we can do so much" ~ H.K.
Please order at least 48 hours in advance. Pick up window 4pm-6pm. Free Delivery Available (up to 15 miles). Call, text 832.914.7754 or send an email. Please check out the menu for this week.
Pay by Zelle Badra@TheBougainvilleas.com
Pay by Venmo @BadraAndrews