Beyond the Rhetoric 86: COVID-19 is Scary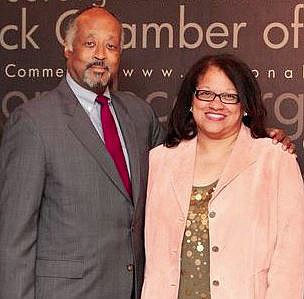 By Harry C. Alford & Kay DeBow
Our son, Harry, came to our home to bring us fresh fruit – red apples, bright yellow bananas – and rustic wheat bread. Thomas brought huge boxes of Gatorade and sparkling water. That's not unusual. But the circumstances had changed. We met outdoors in the driveway, we stood 6 feet apart. We didn't hug or kiss. We called out "I love you" above the noise of the wind.
Thomas admonished us to use the disposable gloves he purchased for us. He promised to return with the much-needed toilet paper. It seems that toilet paper was one of the fastest selling products.
To our immense delight Little Harry brought our 2-year-old grandson to "visit" on the driveway. Big Harry's first instinct was to move in the direction of his grandson, but I held his hand and reminded him about coronavirus (COVID-19). He instead waved at the baby and admired his new shoes and rabbit ears from a distance and blew kisses.
Having just been discharged from the hospital, and having limited access to news, Harry is still trying to wrap his head around the enormity of this virus.
The truth is I'm still trying to comprehend the situation. Many Americans are trying to do the same. As of today the number of deaths in the United States surpasses that of 9/11.
The Centers for Disease Control and Prevention (cdc.gov) describes Coronaviruses as a large family of viruses. Some cause illness in people, and others, such as canine and feline coronaviruses, only infect animals. Rarely, animal coronaviruses that infect animals have emerged to infect people and can spread between people. This is suspected to have occurred for the virus that causes COVID-19.
This virus was first detected in Wuhan City, Hubei Province, China. The first infections were linked to a live animal market, but the virus is now spreading from person-to-person. It's important to note that person-to-person spread can happen on a continuum. Some viruses are highly contagious (like measles), while other viruses are less so.
The virus that causes COVID-19 seems to be spreading easily and sustainably in the community ("community spread") in some affected geographic areas. Community spread means people have been infected with the virus in an area, including some who are not sure how or where they became infected. To avoid being infected, the CDC offers this advice:
• Wash your hands often with soap and water for at least 20 seconds especially after you have been in a public place, or after blowing your nose, coughing, or sneezing. use a hand sanitizer that contains at least 60% alcohol. Cover all surfaces of your hands and rub them together until they feel dry.
• Avoid touching your eyes, nose, and mouth with unwashed hands.
• Avoid close contact with people who are sick
• Put distance between yourself and other people if COVID-19 is spreading in your community. This is especially important for people who are at higher risk of getting very sick.