H-E-B Launches Take and Bake Dishes with Underbelly Hospitality Starting Thursday, April 2nd, a New Ready To Cook – Oven Ready Dishes to Go By Georgia James Meat Market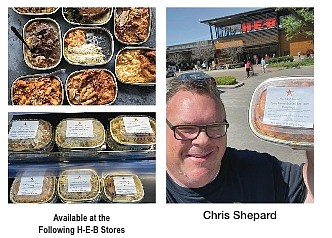 Beginning today, April 2, select H-E-B stores are selling Underbelly Hospitality Take and Bake dishes. Look for the dishes near the entrance of each store.
"Thank you so much to our friends at H-E-B," said Underbelly Hospitality chef/owner Chris Shepherd. "This is one more revenue stream for us to pay rent, support our farmers and hire our furloughed staff back faster. H-E-B is a company that truly supports its communities, and we are so grateful for this opportunity."
All items are subject to change, based on product availability.
Take and Bake: Oven-Ready Dishes
To Go - $12 at H-E-B
Tater Tot and Bacon Sausage
Casserole (22oz)
Bacon sausage, tater tots, cheese sauce, peppers and onions, white cheddar
King Ranch Chicken (20.5oz)
Chips, King Ranch sauce, mixed cheese, chicken
Chicken Tenders and Mac & Cheese (14oz)
Macaroni, cheese sauce, three fried and breaded chicken tenders, white cheddar
Wagyu Helper (like Lamburger Helper but with Wagyu) (18oz)
Fusilli pasta, cheese sauce, mirepoix, ground wagyu, white cheddar
Korean braised beef and dumplings (16oz)
Braised beef, Gochujang sauce, sesame seeds, rice dumplings
Available at the Following H-E-B Stores
Montrose Market (1701 West Alabama)

Buffalo Market (5225A Buffalo Speedway)

San Felipe (5895 San Felipe)

Sugar Land Market (530 Hwy 6)

Buffalo Heights (3663 Washington)

Heights HEB (2300 N. Shepherd)

Bellaire Market (5106 Bissonnet)

Meyerland Market (4955 Beechnut)

Pearland HEB (3805 Business Center Dr)

Bunker Hill HEB (9710 Katy Freeway)
These dishes, along with uncooked steaks from the Georgia James Meat Market, sweets and wine from the Georgia James list (20 percent off!), will continue to be available via Georgia James curbside pickup at 1100 Westheimer, 11am-6pm (note our new hours!).