Back To Her Roots...Loni Love Quarantine Talent Show Attracts Over 20,000 Viewers with Guest Judge Jonathan McReynolds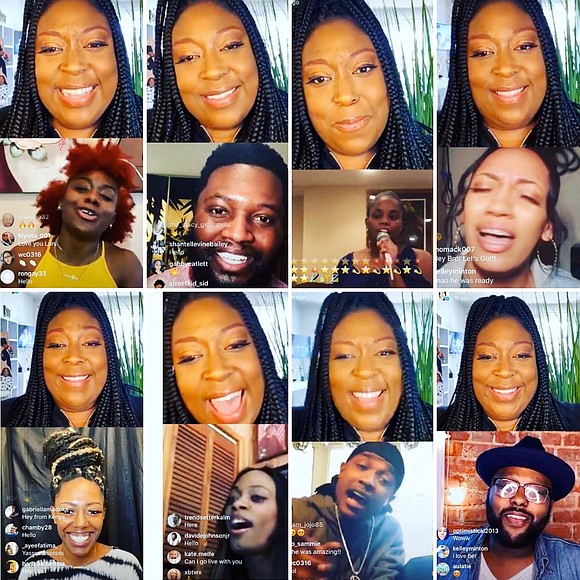 In 2003, Loni Love competed as a finalist on "Star Search" an opportunity that brought major attention to her comedic chops as a stand-up talent. This past weekend, Love went back to her roots and garnered over 20,000 viewers who tuned in for the first-ever Loni Love Quarantine Talent Show.
QuarantineWithLoni is a 1 hour Instagram Live series presented by Loni Love, Emmy and 2x NAACP Image Award winning talk show co-host of The REAL Daytime and co-host of the nationally syndicated Cafe Mocha Radio show, to give people an opportunity to escape. Many fans check in from around the world and play a round of 'Shoutragous!' as seen on "The Real" that requires blurting out things related to a specific topic before time runs out!
For the last few weeks, Love has welcomed special celebrity friends and experts to join her live including DJ D-Nice, Kierra Sheard, Killa Mike, Angela Rye, Tamera Mowry Housley, Terry Ellis of En Vogue, David Allen Grier, Tiffany The Budgetnista, Yo-Yo, Jeannie Mai, Yvette Nicole Brown, Adrienne Houghton and Ta'Rhonda Jones.
During her daily live on Friday, Love announced to fans that she wanted to do something special for them...a virtual talent showcase with a cash prize winner!
Prospective participants were instructed to upload a video and tag #QuarantineWithLoni for a chance to perform live on Saturday. With an overwhelming response, 8 lucky finalists were chosen to compete live in front of a virtual audience. The finalists found out later that Grammy-winner Jonathan McReynolds would join Love as a special guest judge.Following the performances, Jonathan McReynolds joined Love on camera to give feedback to the contestants. "I've been enjoying the whole talent show. There were a lot of them that were really good. Shamika was cold...the first spoken word artist...Lamarr was cold at the end," said McReynolds.
Love continued with highlighting McReynolds upcoming "People" project and community initiatives. Last week, in support to those impacted by the pandemic of COVID-19, McReynolds' non-profit, Elihu Nation, gave away $300 per day to fans that answered trivia questions.
In hopes that he would say yes, Love asked McReynolds if he would sing something...to her surprise before you knew it there appeared his guitar and McReynolds was performing his new single, "People." Love even joined in on a line of singing...see for yourself!
After the show, Love took to Instagram to announce that she will actually be awarding one male and one female with a cash prize. The public was able to vote via Instagram story poll for Lamarr Lyons or Mir Mizack and DeAna Fai or Shamika Chantae. After more than 17k votes, Love announced not only the two winner BUT another Loni Love Quarantine Talent Show to take place on Saturday, April 25, 2020.
"Thxs to all who participated in the first ever Quarantine Talent Show. With over 17k votes casted...the winners are...🥁🥁🥁 @shamikachantae_ & @lamarrlyons 👏🏽👏🏽👏🏽 Congrats! We will return this Saturday for another showcase. Tag #QuarantineWithLoni for a chance to participate."
Love is excited to showcase more talent on Saturday, April 25 and welcomes all to tag their performance video on Instagram with #QuarantineWithLoni for a chance to join her live.
For more information about Loni Love and/or QuarantineWithLoni:
The contestants performed various talents that included singing, spoken word, rapping and comedy.