Zoom in Style with T. Marie Designs Ear Jewels!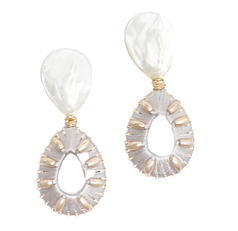 As folks are adjusting to the new normal of virtual meetings and Zoom birthdays, tastemaker Tiffany Custard of T. Marie Designs wants gals to feel pretty and confident while doing so.
Her line is feminine, timeless and chic. Pearls and florals adorn each piece; perfect for pairing with your Sunday's best, satin pajamas, or a white t-shirt and denim shorts; whatever you're Zooming in!
Order your pair