Yolanda Adams, Michelle Williams, Brian Courtney Wilson, Ruben Studdard, Coko of SWV, Syleena Johnson, Major. and more
Music Endeavor Was A Selfless Birthday Gift to Inspire & Encourage Virtual Connection During The Pandemic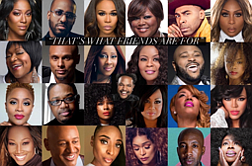 TV Host & Pop Culture Commentator Jawn Murray has assembled an all-start list of R&B, Gospel & Jazz singers for an inspiring virtual collaboration remaking the classic 'Dionne Warwick & Friends' song, "That's What Friends Are For."

Feeling the weight of people online expressing the challenges of social distancing during the pandemic and missing human connection, Murray spent 72 hours in the days leading up to his birthday on April 21 reaching out to a variety of his friends about participating. The end resulted in over 24 vocalists who all submitted videos for the empowering endeavor.
"My super power is connection and like so many others, it's certainly been challenging for me not having regular interaction with my friends, family and loved ones. So I had a vision to create an movement that would inspire people during this time, remind them of the importance of friendship and connection, and just be a blessing as we live through a moment in history where people are yearning for hope," said Murray.
The 24 singers featured on the "That's What Friends Are For" virtual collaboration include Yolanda Adams, Ruben Studdard, Michelle Williams, Coko of SWV, Syleena Johnson, Major., Shirley Murdock, CeCe Peniston, Le'Andria Johnson, Kenny Lattimore, Shanice, Ann Nesby, Avery Sunshine, Dave Hollister, Trenyce, Y'Anna Crawley, Leela James, Isaac Carree, Maysa, Lexi, Brian Courtney Wilson, Paula Champion, Angie Stone and Jeremiah Abiah.
The superstar initiative will go live via Murray's YouTube, Instagram TV and Facebook Pages at 2:27pm ET on Monday, April 27, 2020 and use the hashtag #Friends4Connection. (Link for YouTube: https://youtu.be/_ghzX0i-8EA)
Murray arranged and self-produced the video and collaborated with producer/musician Phil Walker who created the original musical arrangement to accompany the vocalists, in addition to playing keyboard.
The Washington, DC-based Murray is available for TV, radio and digital interviews to talk about this endeavor, the importance of finding unique ways to connect with friends and ways to hone your creativity during this time.