International Philanthropist & Disabilities Advocate Lisa A. Thomas Featured in Photo Memoir By Celebrity Photographer Bruce Bell
Bell Releases "In Search of the Authentic Lisa A. Thomas" Photo Book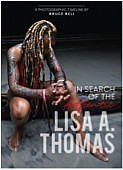 World renown philanthropist Lisa A. Thomas is the featured subject of celebrity photojournalist Bruce Bell's new photographic timeline, In Search of the Authentic Lisa A. Thomas. Bruce Bell of Bruce Bell Media (BBM) has been in the photography business since 2002. His work is a favorite in the Houston African community. He has shot famous visiting actors from the motherland, musicians, and dignitaries. He is a noted fashion photographer and has done some work for Rap-A-Lot Records. One of his greatest contributions to the African American community is his work at the NAACP Theatre Awards.

Bruce Bell sees beauty in everything regardless of the perspective of the world around him. It contributes to the excellence you see in his photographic artistry. His compassion for people and sharing the beauty of who they are is evident in the photo memoir, In Search of the Authentic Lisa A. Thomas.
Lisa was born in Beaumont, Texas on August 31, 1966, to Walter and LouAnna Thomas. She is number six of seven children, two boys and four girls. As a child, Lisa was ambitious, thrifty, and entrepreneurial, and a Daddy's girl. An early marriage ended abruptly, and she found herself divorced caring for a special needs' child. In her struggle to find herself amidst all of life's challenges.
She decided to search for her true identity. This photograph memoir is her testament to the work she has done personally and professionally in order to be the best caregiver to the special need's community nationally and abroad. Life's challenges have shaped Lisa and made her a pleasant mystery. She is a gift to so many people in the disability's arena, a legendary enigma to some, and a multi-faceted diamond to others. Today we find Lisa in the midst of her journey to true authenticity. This photographic timeline gives you the opportunity to join her in this incredible adventure that has taken her from the streets of Beaumont, Texas to the rural cities of South Africa and Kenya where her Foundation From the Heart provides fiscal and educational support for special needs families.