Mobile Meals: Wells Fargo, Feeding America Introduce Drive-Up Food Bank Program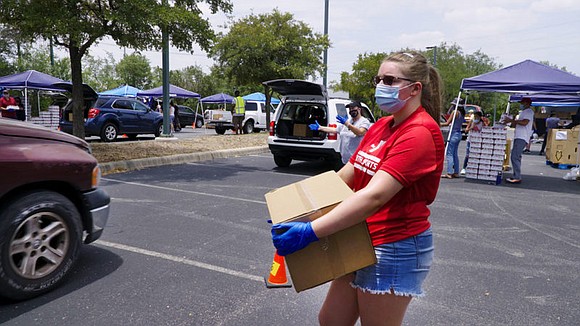 A dental laboratory technician visited Wells Fargo's bank branch in Mesa, Arizona, July 8, but not for its financial services, as it had closed for the day.
With reduced work hours, she'd felt the pandemic's impact on her budget, so she stopped by for a box of fresh food provided by volunteers from United Food Bank.
"I was like, 'Wow,'" the customer said of the fresh oranges, nectarines, potatoes, and other food inside the box. "Food is expensive nowadays, and this just helps. There are so many people who can use a helping hand."
The distribution is part of the new Wells Fargo Drive-Up Food Bank program with Feeding America. From July through mid-September, Wells Fargo is teaming up with local Feeding America member food banks to distribute food in their communities.
The program seeks to help provide more than 50 million meals* in response to the growing demand for food and add to Wells Fargo'ssupport for its customers, employees, and communities during COVID-19. (Seewellsfargo.com/foodbank for the full list of participating local food banks.)
In the program's first week, Wells Fargo Drive-Up Food Banks in San Antonio; Mesa, Arizona; and Fremont, California, welcomed about 870 families — distributing 55,801 pounds of food, or 46,500 meals, based on the U.S. Department of Agriculture's estimate of 1.2 pounds of food for an average meal.
According to a recent Feeding America analysis, about 1 in 6 people may experience food insecurity in 2020 as a result of the COVID-19 pandemic, an increase of 46% compared to 2018. In response to the increased need, the Feeding America network of food banks estimated an average of just under 30% of people being served are new to charitable food assistance.
That number is even higher in San Antonio. Based on the U.S. Census Bureau's American Community Survey in 2019, San Antonio has the highest poverty rate of the nation's top 25 major metropolitan areas, with 15.4% living below the poverty line.
Michael G. Guerra, chief resource officer for the San Antonio Food Bank, said 50% of the people seeking help from the food bank are first-time recipients. He said 345 cars visited the first Wells Fargo Drive-Up Food Bank event on July 7 at the company's Wiseman campus. Many drivers lined up hours before the official start after they preregistered with the food bank online.
"The northwest area of San Antonio is often seen as not having poverty, but we know it's there," said Guerra, noting the Wells Fargo Drive-Up Food Bank program builds on the nonprofit's more than 25-year relationship with Wells Fargo and multiple efforts to fight hunger.
"This campus gives us great access to families living on the edge of poverty or new to joblessness due to COVID-19," he said. "Perhaps they lived in northwest San Antonio when they could afford it and had a job, but now they are out of a job and need food bank services."
Before COVID-19, more than 4,300 Wells Fargo employees worked at Wiseman's 10 buildings to support 12 different businesses. About 75% now do the same work at home, as Wells Fargo adjusted its workplaces for social distancing.
As retail property leader for Wells Fargo's Corporate Properties Group, Bruce Kimbrew oversees 6,000 retail sites including bank branches and specialty offices.
When he heard about the Drive-Up Food Bank program, Kimbrew raised his hand to help the company convert the unused parking lots at Wiseman and other locations into mobile food distribution sites.
He consulted with regional property managers, Community Relations officers, demographic data, and local Feeding America member food bank leaders to select locations.
To qualify for consideration, Kimbrew said, each Wells Fargo location had to have a separate entrance and exit, a parking surface large enough to accommodate a 53-foot trailer, enough volunteers to serve up to 500 cars in a two-hour period, and adequate space to allow food bank volunteers to load cars with food at a safe social distance.
"We sent the notification to pretty much all of our property management team, and they looked at their portfolios and locations," Kimbrew said. "In many markets, we had several locations Feeding America member food banks could choose from.
"When I reached out to these property managers or regional directors asking about the availability of real estate for this program, all I got was enthusiasm," he said. "They are energized that we care so deeply about the communities we serve that we are offering up our real estate to help people in need, and have pitched in to help."
Taylor Johnson, executive director of Tri-City Volunteers Inc. in Fremont, California, is operating a Wells Fargo Drive-Up Food Bank location in conjunction with the Alameda County Community Food Bank. He said they now serve up to 500 cars daily at their brick-and-mortar food pantry, and about 800 more weekly through 22 mobile pantry sites.
"The need has gone way up," Johnson said. "We used to have 200 (people) walk in to our Marketplace, and now have 500 a day driving through here at our building. Even before COVID-19, the demand for food already was increasing because of skyrocketing rents and living costs, but the pandemic has widened the impact. Millions have lost jobs and now need food, too."
Kellie Barron, who manages Tri-City Volunteers' mobile food program, said the Wells Fargo Drive-Up Food Bank in Fremont provides an additional way to reach families with children.
"We served close to 300 cars July 10 when we opened, and I expect that to only grow over the next seven weeks," she said. "The need is so great, particularly for families with children over the summer. Their parents may have lost jobs or can't go back to work since they have to take care of their children and can't turn to schools for food.
"I'm glad Wells Fargo has done this," Barron said. "The need is going up, but the food is there too so, working together, it's our job to make sure we're getting it out to the people who need it."
We're taking action every day to support our employees, customers, and communities during this challenging time. Read about the actions we are taking, what our strategists are saying about market volatility, how to conduct banking from the safety of your home, and more.