National Philharmonic Celebrates Black History Month With "Black Classical Music Pioneers" Feb. 22 at Strathmore
Four Black Classical Composers Including Wynton Marsalis & William Grant Sill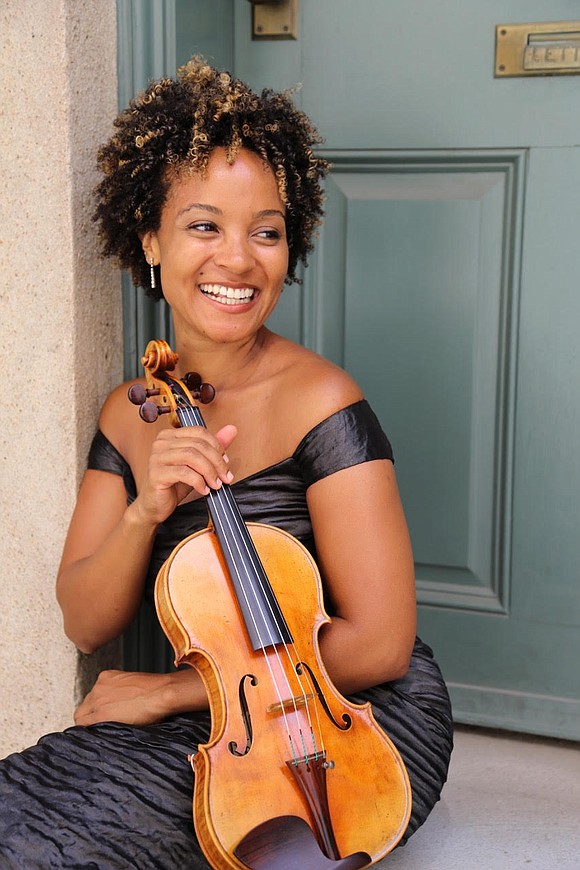 The National Philharmonic celebrates Black History Month with "Black Classical Music Pioneers" on Saturday, Feb. 22 at 8 p.m. at The Music Center at Strathmore. The concert will be performed by the National Philharmonic Orchestra and conducted by Philharmonic Music Director and Conductor Piotr Gajewski, who will be joined by features soloist and Sphinx Competition winner violinist Melissa White. The evening will feature musical works by some of the most prolific African American composers of the 20th and 21st centuries : Wynton Marsalis' Wild Strumming of Fiddle, Florence Price's Violin Concerto No. 1 in D Major, George Walker's Lyric for Strings, and William Grant Still's Symphony No. 1 (Afro-American). White is the soloist for Price's Violin Concerto No. 1 and, as such, the concert is featured in the Boulanger Initiative, a female-focused musical initiative that promotes music composed by women through performance, education, and commissions. White is a founding member of the highly acclaimed Harlem Quartet, with which she has toured globally since the quartet's founding in 2006. Most recently, she was named featured soloist on the soundtrack of the 2019 horror film, Us. A pre-concert lecture will take place 6:45–7:15 p.m. on Saturday. Ticket prices are $29–$79, free for young people 7–17, and $10 for college students. There is a new 25% discount for military and veterans. Strathmore is located at 5301 Tuckerman Lane, North Bethesda. For more information or to purchase tickets, visit nationalphilharmonic.org or call 301.581.5100.
In this exciting program, European musical forms gain a new vibrancy through the influence of African-American traditions and the blending of classical and popular styles. Wild Strumming of Fiddle, by Wynton Marsalis (born 1961), comes from a remarkable 12-movement work that fuses jazz and symphonic music to create a dizzying array of sounds, rhythms, and melodies. The Violin Concerto No. 1 by Florence Price (1887-1953) is a highly accomplished work in the models of the European classical concerto, by the first African-American woman to be widely recognized as a symphonic composer. The Lyric for Strings by George Walker (1922-2018), the first African-American composer to win the Pulitzer Prize for Music, is a work of intimate beauty. The Symphony No. 1 by William Grant Still (1895-1978) is the first symphony written by an African-American composer. Its subtitle ("Afro-American") points to the unique style of the work, which includes elements of blues and jazz.
Melissa White
American violinist Melissa White has enchanted audiences around the world as a soloist and a chamber musician. A first-prize laureate in the Sphinx Competition (for Black and Latinx string players), White has received critical acclaim for solo performances with such leading ensembles as the Cleveland Orchestra, the Boston Pops, and the Atlanta, Baltimore, Colorado, Detroit, and Pittsburgh symphony orchestras. In April 2016, she served as interim concertmaster in performances and recordings of the Louisville Orchestra. Internationally, she has appeared as soloist with Poland's Fillharmonia Dolnoslaska; with the Colombian Youth Orchestra; and as a recitalist in Azerbaijian. In the 2017-18 season, White made her solo debut with the National Philharmonic and returned to the Chicago Sinfonietta, where she partnered with fellow Sphinx Laureate Ifetayo Ali-Landing in Saint-Saëns's La muse et le poète for violin, cello and orchestra. Her recent orchestral concerts include return engagements with the Lansing Symphony Orchestra and the National Philharmonic and debuts with the Monroe, Pasadena, Knox-Galesburg, and Johnson City symphony orchestras.