Shop 54kibo's Curated Collection of Contemporary African Design
Style Magazine Newswire | 2/11/2020, 10:06 a.m. | Updated on 2/11/2020, 10:06 a.m.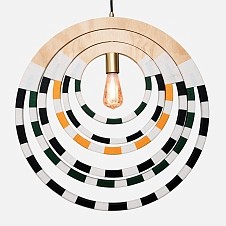 At 54kibo, we curate home décor and lifestyle pieces made by contemporary designers of Africa and the Diaspora. Partnering with more than 30 inspirational designers and artists who trace their roots back to Africa, 54kibo sells one-of-a-kind home decor, kids' items and lifestyle accessories including home lighting, wall art, rugs, throw pillows, furniture, jewelry, and handbags. Customers can seamlessly source beautifully crafted home goods and immerse themselves in the cultures and lifestyles of various African countries.
54kibo delivers timeless beauty; every piece is a union of elevated craftsmanship inspired by a slice of history. For example, Modern Gesture founder Candice Lawrence created the Ndebele Necklace Lampshade, named after the traditional female neck jewelry, worn by the Ndebele people, whose dress signifies age and status. Recycled wooden rings form the shape of the design and color wax cords specify its design.
54kibo's products carry meaning and ignite conversations about Africa and the diaspora every time a design is brought into the home, received as a gift, or worn by its owner. "54kibo sparks story sharing and cements the power of cultural knowledge that is so important as we raise new generations around the globe," says Nana Quagraine, founder of 54kibo who was born in Ghana, raised in South Africa and lives in Brooklyn, New York with her family. "Much of mainstream music, art, architecture, fashion, and design draw directly from Africa's culture. The story of Africa's design influence should be more accessible and 54kibo aims to bring the new takes by contemporary African designers to a broader market of consumers."
To embrace 54kibo's designs is to empower the history and the artists who continue to evolve its lineage. For the person looking to curate some of the world's finest design for their home, 54kibo expands their options by offering access to handmade design pieces that are not yet widely available at approachable prices. 54kibo provides a hassle-free shopping experience. Shipping is always free, and customization is available for certain collections.
54kibo's high standards, proud mission, and expert curation elevate anyone's personal and home decor style, while simultaneously showcasing the rich heritage and evolving lineage of African design.