Go On a Culinary Adventure in Your Own City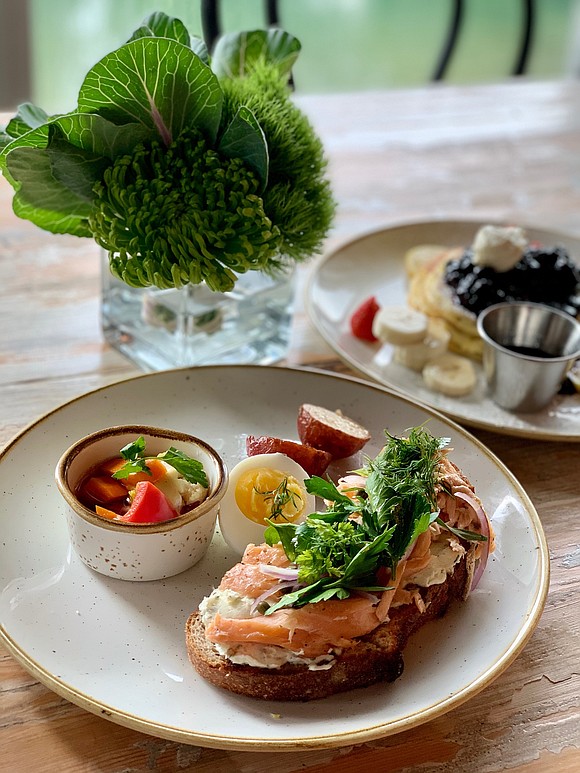 By Jo-Carolyn Goode and TotallyRandie
A new decade deserves a break from your old routine. Don't start 2020 by continuing to go to the same few restaurants because they are your favs, close by, or fit in your budget. Expand your horizon and your entire palette by exploring other culinary delights. Houston has some of the best cuisines in the US. I, along with our resident foodie TotallyRandie, was fortunate to sample a few extraordinary entrees on a Houston staycation where we explored some of our city's best treasures. Join us on a culinary tour of Houston's downtown.
When the day is just not going your way and any and everything that can go wrong has. All you want to do is try to forget and hit the reset button. Or maybe your girls are in town with an agenda to party all night long. Before the real party begins, a pre-festive turn up is mandatory to set the tone of the night. No matter your itinerary the lobby bar at C. Baldwin Hotel will get you right with its amazing drinks, awesome food, and amusing atmosphere.
Pick your poison of vodka, tequila, gin, prosecco, bourbon, rum, or beer and pair it with one, two, three or more of their scrumptious appetizers. We suggest the Margherita or the Meat Lovers pizza with the Full Monty charcuterie. There is enough protein to go around and it is needed very much to balance out the liquor your party will consume.
If the massive murals flanking the outside wall merging the past, present, and future doesn't draw you in, the classic, grilled, plump, juicy burgers sure will. The former grocery store is known for fresh ingredients with premium grade beef to make the best burgers in town. On our visit, we tried their signature sliders. Trust us they live up to all the hype. What I found just as good were the fried pickles. It was the house ranch flavor batter that set these off for me. Their unique flavorings are unlike any that I have tasted. All the media in attendance agreed because we ate all that Stanton's had in stock that night. Surprisingly is that this place known for burgers has so many options for non-beef eaters like turkey burgers, grilled cheese sandwiches, salads, egg rolls, chili, hot dogs, chicken sandwiches and pork chops sandwiches.
The story of how this restaurant came to be will have you in love with it before trying the food. An immigrant with next to nothing but the clothes on her back came over with the desire that all parents have to give their children, a better way of life. Her only skill was cooking. She started a restaurant serving food made with love derived from her soul and the rest has been our pleasure to enjoy. The soul of Rosalie passed through generation after generation now pours from the soul of her great grandson Chef Chris Cosentino.
Dishes out of this kitchen are Italian love on a plate. Portion sizes are huge because they are meant to share amongst everyone at the table. Rich red hearty sauces, exotic cheeses, fresh caught seafood, and more will tease your palette as the different flavors dance on your tongue. Some dishes that had us begging for more was the Arancini (crispy risotto balls that will have cheese lovers in heaven) and Blue Crab Manicotti (local blue crab in lobster sauce that is unbelievably good). We both agreed that we were glad that we didn't grow up with the descendants of Rosalie because we would weigh a ton due to everything being so rich and oh so good!
Get swept away as you walk inside this indoor treehouse. Wall-to-wall windows surround you giving the best views of Buffalo Bayou Park. Just as breathtaking is the array of assorted pastries and treats on display as you try to decide on which scrumptious breakfast dish that you want. We couldn't decide so we did the next best thing. We got different entrees and shared them. Best decision ever. I got to sample some of TotallyRandies's ricotta pancakes topped with blueberries and strawberries that were so good I didn't even need syrup and if you know me that's really saying something. TotallyRandie got to taste my green eggs and turkey sausage that was not the usual taste for this standard American breakfast. However, neither of us shared our muffins/pastry. I got the Morning Glory muffin that was as much as a treat as any piece of cake that I could have had. Not only was it bigger than my mouth but also it had these perfectly sprinkled sugar crystals across its top that made the muffin almost too pretty to eat. But I did and it made my stomach happy. I highly recommend the caramel latte to accompany your breakfast muffin to add a smooth finish to your breakfast. TotallyRandie had the blueberry cream pastry. Looking more like dessert than a breakfast pastry, she felt every bite was like a reward for having impeccable taste in food. Each morsel was moist, flakey and well-iced. Flavorings were strong from the first bite to the last swallow. She had absolutely no complaints.
So, I'm not that big on cooking, but TotallyRandie swears she's Chef-Boyar-Dee! Either way, the next leg on our staycation was quite interesting since we had to cook our own lunch. Yikes! A little bit of anxiety filled our heads as we thought about how our magazine might be embarrassed by our skills in the kitchen. We put our fears aside, rolled up our sleeves, and got to cooking.
But where can you find authentic Chinese ingredients? Well, you go to the largest Asian supermarket chain in America, H Mart Starting in 1982 with a single store in Woodside, Queens, H Mart has grown to more than 97 stores across the US with one being right here in Houston's China Town.
Combine Chinese celery, ground beef, green onions, cilantro, flour, and spices and what do you get? Dumplings, my friends, and that's what we made from scratch. Our instructor made this look so easy. Making the dough was simple but making the dumpling shapes was a challenge. Add on putting the right amount of meat inside coupled with cooking the dumpling just right so the filling doesn't fall out in the water and you have a stressed cook. Patting ourselves on the back, we didn't do too badly. The reputation of HSM is in tack. For first timers, our dumplings were pretty good. Luckily, the folks at the Chinese Community Center thought some of us might have trouble cooking our lunch so they ordered us to be on the safe side or else we would have starved. We dined on fried rice, egg rolls, and dumplings!
When it comes to ice cream most people will say Bluebell is their favorite. Yes, it is good, really good but I beg to ask, "Have you tried Bae's ice cream?" It will change your life and everything you know about ice cream. All the flavors are different and unique. Their presentation also gives the ultimate shock value, so they are very Instagram worthy. For my first experience at Bae's, I tried their pineapple flavor ice cream. The pineapple flavor is not the expected yellow but a dark charcoal black color. Despite the dark color, it still tasted light and delicious. Other flavors based on cereals and exotic fruits make the menu interesting. Add more items to your concoction to truly make your treat your own with chocolate-dipped sticks and sprinkles of gold dust. Desserts are so pretty from Bae's that you don't want to eat it but just take pictures of it. But please enjoy your treat. Be amazed at how the taste is not like anything you have had before. Of course, you have to take a picture with the illuminated "With Love From Bae" sign and @ them on Instagram @BaeLittleTokyo. Bae is an experience like no other and I can't wait to go back.
The best thing about Houston is that we are a great melting pot of diversity. We have so many different cultures that bring all of their backgrounds, experiences, and ways of life to our city. And when their talents transcend to our palettes it is for our enjoyment. On our second night, we got a taste from our islanders from Jamaica with dinner from Cool Runnings.
On the menu was an array of foods that included jerk chicken, beef patties, jerk red snapper fillet, rice & peas, grilled shrimp and plantains. TotallyRandie has traveled the world and is always down to try something new. Whereas I am a bit more reserved. On trips like these, I let my guard down and open my mind to new flavors. I am so glad I did. Jamaican food is now added to my go to food craves. The jerk chicken was probably my favorite. You didn't even need a fork. It fell right off the bone. The shrimp were big and plump with a sauce that had the island but not too much of the fire. All the dishes we sampled had us wanting more. However, we did have to limit ourselves when it came to the mango ice tea. Don't get us wrong it was refreshing, sweet, and tasty and therein lies the problem. We wanted to drink a lot but if we did that we wouldn't have had room for the food. Our suggestion is to buy a gallon of it to go to enjoy at your leisure (it is that good).
The Breakfast Klub is the kind of place that will have you waking up early for breakfast. One reason is that the food is so good. And two because the restaurant is so popular you need to get up early to beat the crowd. Chicken and waffles and catfish and grits are two of their highly popular dishes that keep people coming back. The chicken is always fried with that extra crunch that is so loud it's disturbing. Making each bite even better is the well-seasoned batter that has a touch of spice. Waffles are light and fluffy served with butter that slides along the golden divots of the waffle. The grits are not too runny and not too thick but are just right for these Southern girls. And the only pairing suitable for grits as these is their signature golden fried, crispy catfish. Served hot and fresh, the batter of the fish seals the deal of this classic Southern breakfast dish. During our staycation, we devoured the chicken and waffles and had servings of eggs, fresh fruit, bacon, sausage, and homemade biscuits that didn't last long on our plates. You smell the food before it arrives at your table. All the smells make you mad that you didn't visit sooner. And, I am sorry to tell you that after eating any plate from The Breakfast Klub you will probably be full for the rest of the day, no matter how much you starve yourself. They serve the kind of food that sticks to you and stays with you.
Hopefully, TotallyRandie and I were able to widen your horizon to some new restaurants in the city limits. We encourage you to experience some new flavors and check out some different vibes. Let us know what you try and how you liked it. We would love to hear from you. Tag us @HoustonStyleNews on IG.
Special thanks to Visit Houston for helping us learn more about the city we call home.
For all things, Houston, follow @VisitHouston as well at @HoustonStyleNews on Instagram!