Go On a Culinary Adventure in Your Own City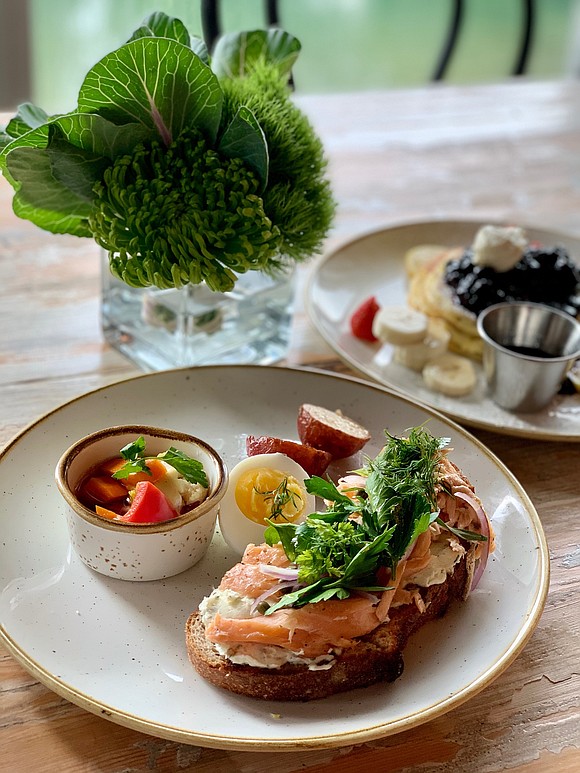 By Jo-Carolyn Goode and TotallyRandie
A new decade deserves a break from your old routine. Don't start 2020 by continuing to go to the same few restaurants because they are your favs, close by, or fit in your budget. Expand your horizon and your entire palette by exploring other culinary delights. Houston has some of the best cuisines in the US. I, along with our resident foodie TotallyRandie, was fortunate to sample a few extraordinary entrees on a Houston staycation where we explored some of our city's best treasures. Join us on a culinary tour of Houston's downtown.
When the day is just not going your way and any and everything that can go wrong has. All you want to do is try to forget and hit the reset button. Or maybe your girls are in town with an agenda to party all night long. Before the real party begins, a pre-festive turn up is mandatory to set the tone of the night. No matter your itinerary the lobby bar at C. Baldwin Hotel will get you right with its amazing drinks, awesome food, and amusing atmosphere.
Pick your poison of vodka, tequila, gin, prosecco, bourbon, rum, or beer and pair it with one, two, three or more of their scrumptious appetizers. We suggest the Margherita or the Meat Lovers pizza with the Full Monty charcuterie. There is enough protein to go around and it is needed very much to balance out the liquor your party will consume.
If the massive murals flanking the outside wall merging the past, present, and future doesn't draw you in, the classic, grilled, plump, juicy burgers sure will. The former grocery store is known for fresh ingredients with premium grade beef to make the best burgers in town. On our visit, we tried their signature sliders. Trust us they live up to all the hype. What I found just as good were the fried pickles. It was the house ranch flavor batter that set these off for me. Their unique flavorings are unlike any that I have tasted. All the media in attendance agreed because we ate all that Stanton's had in stock that night. Surprisingly is that this place known for burgers has so many options for non-beef eaters like turkey burgers, grilled cheese sandwiches, salads, egg rolls, chili, hot dogs, chicken sandwiches and pork chops sandwiches.
The story of how this restaurant came to be will have you in love with it before trying the food. An immigrant with next to nothing but the clothes on her back came over with the desire that all parents have to give their children, a better way of life. Her only skill was cooking. She started a restaurant serving food made with love derived from her soul and the rest has been our pleasure to enjoy. The soul of Rosalie passed through generation after generation now pours from the soul of her great grandson Chef Chris Cosentino.