Afro-Latin Artist, Ibraim Nascimento, brings his Mixed Media and Installations exhibit to Winston Contemporary Art for Black History Month
'ALIGNMENT' A Series by Artist Ibraim Nascimento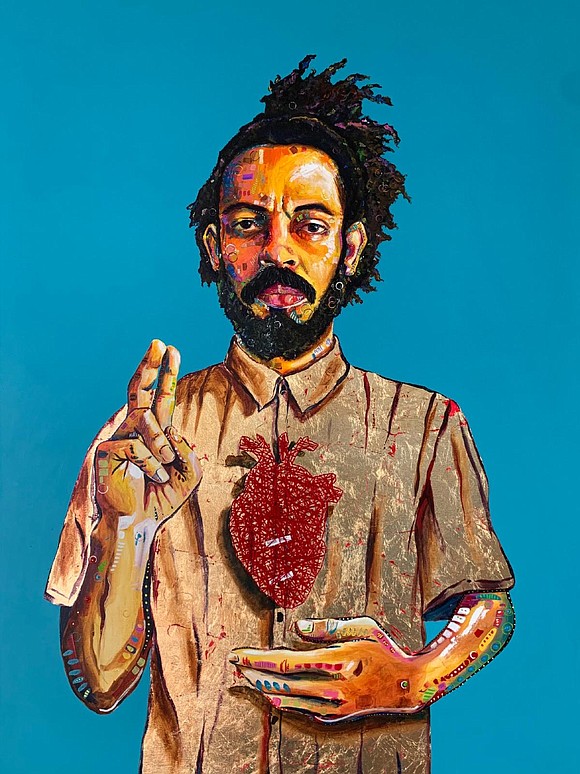 Brazilian Artist, Ibraim Nascimento brings his mixed media and installation works to Winston Contemporary Art in a fresh, colorful, and cultural exhibit entitled Alignment. Born in Bahia, Brazil Nascimento sees Alignment as some of his best works to date.
Nascimento started showing his works at age 15 but says he stopped painting for a decade after arriving in America. Feeling misunderstood and not able to connect in his new homeland, Nascimento struggled and suffered from severe depression. It was only after he began absorbing the culture of the US and feeling more included that he was able to pick up and paint again.
He says, Alignment explores the migration story of an Afro-Brazilian, immigrant artist struggling to find belonging in the United States.
"Alignment is the emotion work of migration, feeling suffocated and contorted, forced to re-shape yourself in order to be seen and understood in this country. I tell the story of migration through the experience of, what I call alignment or alinhamento. To align is to arrange in a straight line, to correct or reposition. Through culture we are constantly in a process of alignment, but can we break free? Who are we and what do we look like after years of alignment? Are we deformed? Are we renewed? Are we still ourselves?"
Alignment features all-new works created for this presentation, including site-specific installation, performance art, and mixed-media paintings.
Alignment runs February 7, 2020, through February 29, 2020
Join us for the Opening Reception
Friday, February 7, 2020, 7 PM- 9 PM
2426 Bartlett, Ste D, Houston, TX 77098
*ARTIST TALK ON FEBRUARY 15TH FROM 2-4 PM ALSO AT WCA.
General Information
Winston Contemporary Art is located at 2426 Bartlett, Ste D, Houston, Texas. Hours are Tuesday, Appointment Only, Wednesday, Thursday and Friday 10 AM-5 PM, Saturday 10 AM–3 PM, Closed Sunday and Monday. For more information, visit WCAHOUSTON.COM or call 832.380.4421.