Mayor Sylvester Turner Has Issued COVID-19 Safety Recommendations for the Next 3 Weeks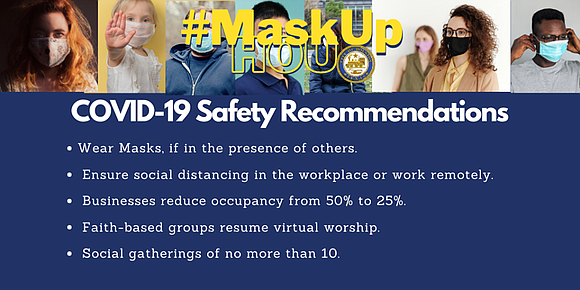 With the new authority given to mayors and county judges by the Gov. Greg Abbott to impose restrictions on some outdoor gatherings of over 10 people, and making it mandatory that, with certain exceptions, people cannot be in groups larger than ten and must maintain six feet of social distancing from others Mayor Sylvester Turner has issued recommendations.
Mayor Turner's recommendations are for #Houstonians to follow over the next 3 weeks to blunt the progression of #COVID19.
-Wear Masks, if in the presence of others.
-Ensure social distancing in the workplace or work remotely.
-Businesses reduce occupancy from 50% to 25%.
-Faith-based groups resume virtual worship.
-Social gatherings of no more than 10.
Houston mask up and stay home.