More than 940 deaths reported in one day as US coronavirus cases shatter another record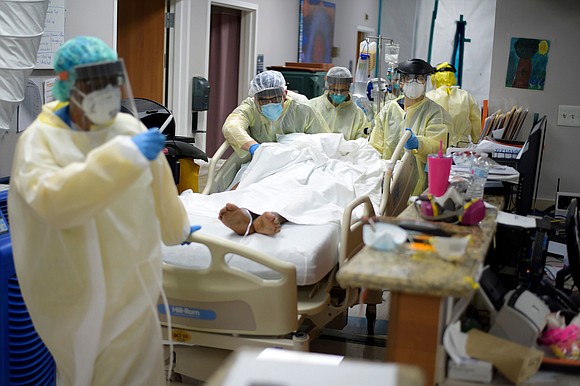 By Faith Karimi and Steve Almasy, CNN
(CNN) -- Battles over wearing face coverings intensified even as the US shattered another daily coronavirus record and health officials warned hospitalizations are getting out of control in some areas.
There were 77,255 new cases reported Thursday, topping a previous high set two days ago, according to Johns Hopkins University. At least 943 people were reported dead that day.
More than 138,000 people have died from coronavirus nationwide, and experts warn that number will likely go up as hospitalizations rise in several states. In Texas and Arizona, morgues are filling up in the hardest-hit areas and officials are bringing in coolers and refrigerated trailers to store bodies.
In South Texas' Hidalgo County, some patients have to wait on a stretcher for 10 hours before being examined due to lack of resources, said Dr. Ivan Melendez, the public health authority.
"We are in dire need, and we are exhausted," he said. "We had four ICU patients. Now we have 211. We had three people on ventilators. Now we have 135."
The county has seen more than 10,000 confirmed Covid-19 cases -- more than 1,200 reported Thursday alone, he said.
Debate over wearing masks heats up
An unpublished document prepared for the White House coronavirus task force says 18 states in the coronavirus "red zone" for cases should roll back reopening measures amid surging cases.
The "red zone" is defined as areas "that during the last week reported both new cases above 100 per 100,000 population, and a diagnostic test positivity result above 10%."
Georgia is among the 18 states in the "red zone" for cases and among the 11 states in the zone for test positivity.
As some states struggled to tame the virus, the debate over wearing face coverings is heating up. Georgia Gov. Brian Kemp sued Atlanta Mayor Keisha Lance Bottoms on Thursday over her efforts to require face masks in public places.
Friday on CNN, Bottoms accused Kemp of playing politics and wasting taxpayer money with the suit. President Donald Trump this week visited, and Bottoms pointed out he was breaking city law by not wearing a mask.
Kemp extended Georgia's emergency coronavirus restrictions and said while people are "strongly encouraged" to wear face coverings -- they're not required. While the order limits public gatherings to 50 people and mandates social distancing, it also prevents local governments from implementing stricter rules than the state's -- including requiring face masks.
And in Utah, a public meeting about a mask policy was abruptly canceled when people without face coverings packed the room. The crowd booed when it was called off.
"This is the exact opposite of what we need to be doing," Utah County Commissioner Tanner Ainge said at the meeting room in Provo. "We're supposed to be physically distancing, wearing masks. This gathering violates current health recommendations."
With a lack of federal mandates, states are taking matters into their own hands and issuing orders requiring people to wear masks in public.