Texas Giants 'Lil Keke & Paul Wall Do It For the Culture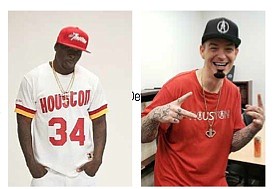 What do you do when you've done it all? From sold-out shows, a Grammy nomination and even a Lifetime Achievement Award from President Barack Obama, Texas legends Paul Wall and original Screwed Up Click (SUC) member, 'Lil Keke, have truly done it all.
With careers that produced classics like Keke's 1997 offering Don't Mess wit Texas and Wall's 2005 defining The People's Champ, each has helped amplify Houston's unique style, sound and aesthetics. Now they simply do it for the culture, often joining forces for anthems like "Break Em Off" and "Chunk Up the Deuce." They've been busy outside of music too, with Keke launching CBD products aimed at calm and relaxation.
Now they're back at it again with a new album titled Slab Talk, which promises to deliver a hearty taste of Houston with new songs like the Slim Thug assisted "So Trill." Despite the pandemic and ongoing unrest, the two found time to chat with Houston Style Magazine about work in the community, how COVID-19 has reshaped things, their upcoming album, Houston culture and more.
How a mutual respect has inspired their collaborations
Paul Wall: I've been a fan of 'Lil Keke since he first began rapping. My first introduction was through him rapping on Screw Tapes, so I've rallied and cheered him on as a fan. Then to see him get the love he deserves is real.
The Making of Slab Talk and pivoting during the pandemic
'Lil Keke: We didn't have to change anything from a recording standpoint, we had to change things up from a traveling standpoint. We pushed things back. I'd rather go through this situation and put it out in June, rather than try to release it during everything that was going on. Once we sat down, we kind of listened to some songs. Just ran through it and fed off it. We already have a lot of work together, so just be comfortable that's pretty much all we had to do. I'm working on SUC as time permits and we've got some things we had planned during the COVID.
Paul Wall: This is kind of something that's been on my mind, cause a lot of Houston music was coming out and people didn't know what we were talking about. The metaphors might go over someone's head if you don't know what we're talking about. I always saw the lyricism, but I didn't feel like other people really did.
Breaking down Houston's 'Slab' culture
'Lil Keke: One of the goals is for people to enjoy slab music again. So I just think any of the tracks on here will allow you to do that.
Paul Wall: It's just a Houston thing. A lot of what we talk about, our rims, 84s, swangas. Popping your trunk up, might put a "RIP" to one of our friends, that's how we represent. Chrome belts and buckles. The wheels. Shops like Texan Wire Wheels. The white cup is something a lot of people didn't understand for a long time. So it's cool to finally see people accept that.
Given the opportunity, which classics would they redo?
'Lil Keke: I'm kind of already doing it. I re-released "Southside" for the 20th anniversary because the song is a real big part of me and I always said I wanted to do it right.
Paul Wall: (Laughs) I would say "In Love With My Money" but I couldn't talk him into it. I would probably say "Grillz" with Nelly because we just had so much fun doing it. Maybe "Drive Slow" though. So much was happening back then that I didn't really get the chance to appreciate the moment. In fact it almost didn't happen at all, because right when I pulled up to the studio my driver got pulled over. I thought it was a joke like, 'I'm about to go do a song with Kanye West and I'm getting pulled over?" I thought I'd been Punk'd. Then to shoot the video like that, we only performed the song a couple of times together.
In the community and beyond
Paul Wall: We've teamed up with the Houston Food Bank for families and kids that need help during COVID, every dollar raised goes towards a family by typing "FEEDHOU" to the number 41444. We've also worked with Congresswoman Sheila Jackson Lee as she set-up various testing sites throughout the city. I, myself, went and got tested and it was a little uncomfortable, but my test came back negative. I'm not trying to be out here telling people what to do or not to do, but if you can, pull up, wait in line and get tested.
A common misconception about them as artists and dream collaborations
Paul Wall: I think people always assume things are perfect because I'm always smiling. It just comes with it, I feel like we're all kind of misunderstood or judged in some way.
'Lil Keke: (laughs) That's crazy because people think I don't smile enough, like I"m just mad or angry when all I do is laugh and joke all day. In certain situations, I'm just even keel about things, so it seems like I'm never overly enthused about certain things. Sometimes people can take that as, 'Oh, Keke might not be as friendly' because most of the time I have a look on my face, but I'm really chilling. As for collaborations, I think I would say Chris Brown. I like him as a singer, rapper and dancer. I'm just a fan of Chris Brown hooks, maybe do something with his versatility. Something different.
With new music on the way, both are as active as ever, proving longevity is key with their new album, Slab Talk. Ready for more? Watch the Paul Wall and 'Lil Keke powered "'Ridin' 5."
Stay Connected: Paul Wall @paulwallbaby | 'Lil Keke @DonKe713 https://slfmade713.com