Houston Mom's Bilingual Teddy Bears, Video Posts Help Make Learning Fun for Kids During Shutdown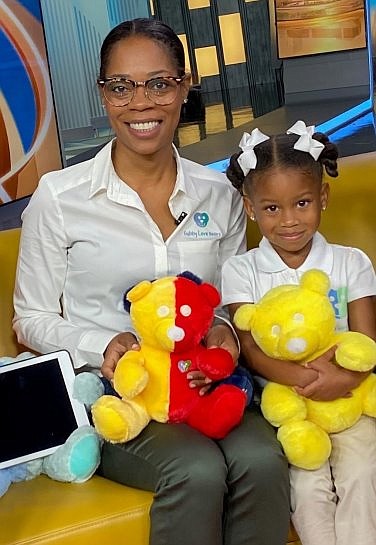 HOUSTON, TX- March 23, 2020: Dr. Tameka Maiden, a single mom and pharmacist from Houston, has found a creative way to keep little ones engaged and learning during the COVID-19 shutdown! The former Houston teacher created a line of cuddly interactive dual-language teddy bears, called "Cubby Love Bears", that teach children colors, numbers, alphabet and other primary skills in both English and Spanish!
While Dr. Maiden is still working full-time as a pharmacist during this crisis, she has been hearing from a number of parents who are finding her Cubby Love Bears to be a great tool right now to give children a huggable toy to play with that is actually helping them learn skills and a foreign language as families hunker down together! She's also been posting learning videos with her own daughter and comments from parents on her Instagram (instagram.com/cubbylovebears) and Facebook (facebook.com/Cubby-Love-Bears) to help parents who are home schooling right now.
"I created these bears to be a loveable friend for kids and a teaching supplement to preschool and elementary learning, never imagining a time when kids would be trying to distance learn at home full time," said Dr. Maiden. "As a single parent myself, the bears have become an invaluable resource for my four-year-old daughter, Tori, and I'm so glad they are helping other parents and little ones get through this extraordinary, and challenging, time, too."
The colorful Cubby Love Bears allow children to vocally hear English and Spanish words with a simple click of the bear's paws. The furry dual-language educational line includes bears like "Yancy the Time Bear", who helps kids learn the days of the week and months of the year in both English and Spanish, "Ory the ABC and Number Bear" and a Cubby Love Bears Color Set, with four color block bears and accompanying bilingual books that teach kids their colors in both languages.
The entire Cubby Love Bears collection, which also includes a non-speaking bear called "Zoli", that holds mobile devices in both portrait and landscape mode for hands-free viewing for kids, is available at https://cubbylovebears.com.