Stay Home and Cook: Comforting Southwestern Casserole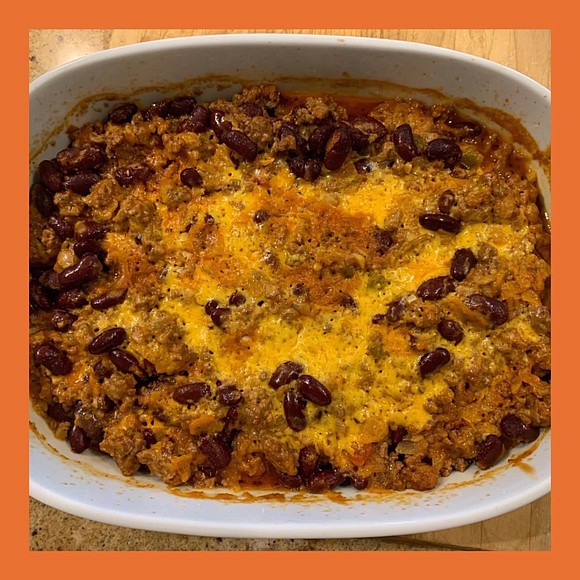 There are certain recipes I return to over and over. Though not gourmet by any stretch of the imagination, they're the ones my family and guests rave about. One of my favorites is also well suited for "shelter in place" restrictions, since the ingredients are always in my pantry or freezer.
This week's recipe, Southwestern Casserole, appeared in my first cookbook, The Family Table. Ground beef, onion, garlic, tomato sauce, salsa, kidney beans, cheddar cheese, and flour or corn tortillas - I bet you have those in your pantry and fridge, too. Of course, substitutions are encouraged to satisfy your palate or avoid trips to the grocery store.
This casserole can be served straight from the skillet, though I usually transfer it to a 9x13-inch baking pan. It's a hearty, tasty, family meal with or without the tortillas. Once our health emergency is over, you'll find this recipe is a welcome addition to potluck supper buffets when served with a stack of warm, street-size tortillas, a bowl of grated cheese, and another of sour cream.
Our family also enjoys this spicy beef casserole spooned on top of a dinner salad, garnished with cheese, sliced black olives, a dollop of sour cream, salsa, and slices of avocado. No matter how you serve it, this dish feeds an army and leftovers can be chilled and zapped in the microwave. Best of all, it freezes well, too!
Southwestern Casserole
1 ½ pounds ground chuck
1 cup onion, peeled and chopped
2 cloves garlic, peeled and minced
1 ¼ cups medium salsa or picante sauce
1 8-ounce can tomato sauce
1 15-ounce can kidney beans, rinsed and drained
¼ cup shredded cheddar cheese
1/3 cup crushed tortilla chips
½ cup shredded cheddar cheese, for garnish
20-count package warm flour or corn tortillas
1 ½ cups chopped lettuce (optional)
1 cup sour cream (optional)
Preheat oven to 375 degrees. Sauté ground beef and onion in a large skillet over medium heat until the meat is brown. Drain the fat, reduce the heat to low, stir in garlic, and sauté 1 minute. Pour in salsa and tomato sauce, and stir well. Stir in kidney beans, ¼ cup of shredded cheese, and crushed tortilla chips.
Cook until the mixture is hot and bubbly. Serve immediately, or transfer the mixture to a 9x13-inch casserole dish, sprinkle with remaining cheese, and cover with foil. Bake 30 to 40 minutes, or until it's hot.
To serve, spoon casserole into warm tortillas, top with chopped lettuce, and sour cream.
Recipe serves 6 to 8